Postgraduate Diploma Series Production
The Postgraduate Diploma in Series Production is a new 60 ECTS advanced production course specifically for non-scripted television and televisual content of all forms.
Springboard+
Springboard+ is co-funded by the Government of Ireland and the European Social Fund as part of the ESF programme for employability, inclusion and learning 2014-2020.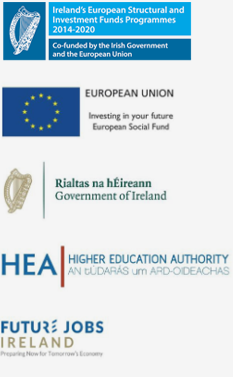 This course is free for eligible job-seekers and offered at a significantly subsidised rate for those in employment via the Higher Education Authority Springboard+ initiative.
Springboard+ is open to eligible job-seekers, home-makers and individuals in employment.
Springboard+ is co-funded by the Government of Ireland and the European Social Fund as part of the ESF programme for employability, inclusion and learning 2014-2020.
---
What is it?
The series producer is the most senior contracted project manager role on a non-scripted TV production. They are responsible for overseeing all stages of production and must exhibit real leadership qualities.  They must be highly skilled creatively, a strong people manager, overseeing all key decisions on deployment of resources, end to end concept realisation, and quality delivery to a constantly changing range of channels including terrestrial, SVOD, digital and social.
This programme is a collaboration between IADT and Screen Skills Ireland (SSI) and will be offered as a Level 9 programme in the Department of Film and Media at the National Film School.  The programme has significant support from all three Irish broadcasters, SSI, Screen Producers Ireland and several leading independent production companies.
Through extensive engagement with industry production companies report that they are being forced to look overseas for their senior producing talent.  This course seeks to address this skills gap. This programme will offer experienced TV and media professionals and returners to industry in Ireland, the opportunity to realise their ambition to move to a more senior level.
What will I do?
The programme addresses the following areas (including, not limited to) idea & format development, financing & legal; licensing; writing for multiple genres, studio and EFP, budgeting and scheduling; production; post-production; people management; ethical recruitment, vendor management; digital content production, distribution and client management.
What modules will I study?
Creative Development: Students will command the skills to conceive, develop and pitch a creative project.
Online content creation & Distribution: Advanced digital media synthesising all elements of online content creation and distribution.
Producers as Leaders: Students gain the skills and competencies required of a creative producer and project leader
Production Practice & Industry Placement: Practical line production skills and industry placement
Multi Camera Television: Students gain the practical skills abilities to lead the production of a multi camera TV programme.
Edit Production: Students take a senior role in managing the post production phase of a client-based media project.
Course Schedule
Start date: 26/10/2020 – 30/7/2021
10-12 hours per week
Monday: 6pm to 9pm (online every week)
Wednesday: 6pm to 9pm (online every week)
Friday: 3pm to 9pm every week online or in class
Saturday: 10am to 3.30pm (one Saturday per month)
Who can apply?
Applicants must have an undergraduate qualification of 2nd Class Honours or higher at Honours Degree level. Those without this qualification may be considered provided they can demonstrate Honours Degree equivalence, which can be verified through the RPL (recognition of prior learning) process. As part of the RPL process, applicants in this category will be required to present a qualifying essay of a standard that demonstrates their ability to undertake work at level 9.
As this an advanced programme, applicants will be required to demonstrate a significant level (5+ years) of relevant industry experience in the audio-visual sector.
Please also submit a CV and a short cover letter outlining your suitability for this programme.
Having been shortlisted based on their applications, all applicants will be required to attend an interview as part of the selection process.
Please submit your application via Springboard.
Future Careers
Graduates of this programme will gain an advanced level of production scholarship suitable for a number existing and emerging platforms.  They will graduate with job-ready production skills that are essential to screen media industries with a particular focus on senior management and the synthesis required between writing, video and digital skills. Having worked through modules that focus creative development, production, online and management skills students will then get an opportunity to apply those skills across multiple genres in single camera and multi camera environments, shadowing, work placements and through high level networking opportunities.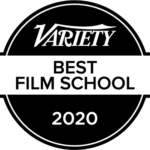 Related Galleries