dlr First Frames: Opportunities for Emerging Filmmakers
Dún Laoghaire-Rathdown County Council announces a short film funding initiative, dlr First Frames.
Watch dlr First Frames online information and Q&A session
Release Date: Thursday August 27th 2020
---
dlr First Frames scheme is a unique opportunity to encourage filmmakers to create exciting, dynamic and engaging screen stories. Its aim is to provide funding and support to emerging filmmakers looking to develop ambitious and creative short films based in Dún Laoghaire-Rathdown. Filmmakers are encouraged to be ambitiously bold in their storytelling, and to use the diversity and variety of locations available in dlr as background and inspiration for original, vibrant films.
dlr First Frames welcomes a diversity of filmmaking styles, themes and creative approaches. The principle requirements are good stories, and a passionate vision for filmmaking. The goal is to open the door to new and emerging Irish film talents. Dún Laoghaire-Rathdown County Council's purpose in promoting this opportunity is to support emerging filmmakers to make vibrant and compelling films and to increase awareness of the variety and flexibility of locations available in the region.  DLR's Economic Development Unit is supporting this opportunity to support employment in the film making industry in DLR.
dlr First Frames is fully funded by Dún Laoghaire-Rathdown County Council's Arts Office and Economic Development Unit, and managed by IADT.  Funding will be available through the scheme to support two short films with awards of up to €12,000 (please note that this is VAT inclusive) each. Mentoring support will be provided by the National Film School, IADT along with additional equipment and facilities from IADT (subject to availability and access).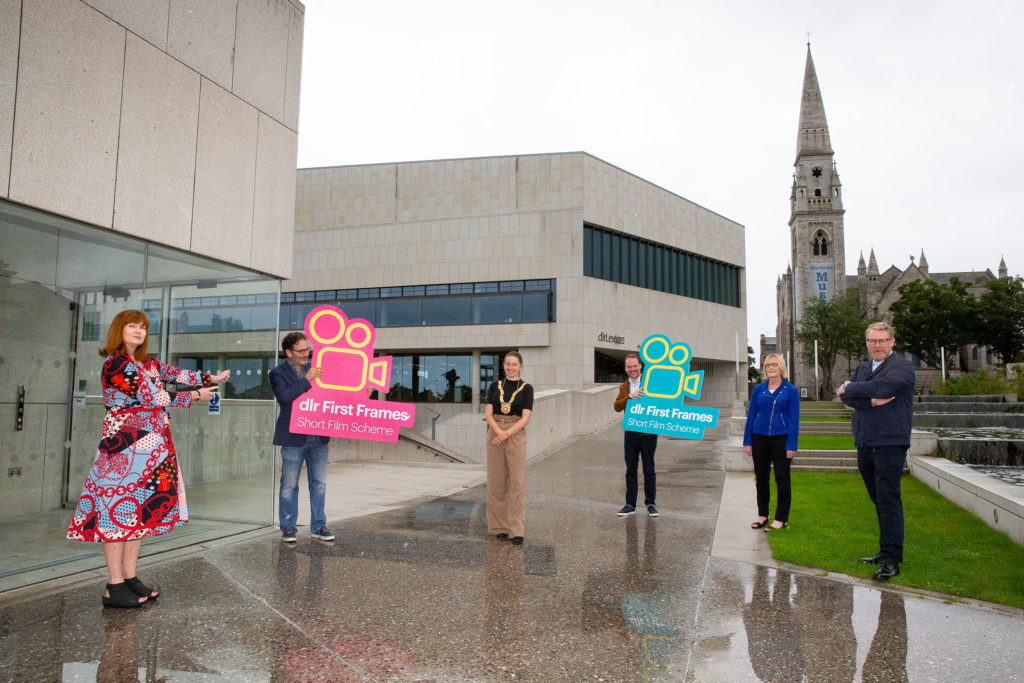 Cathaoirleach of Dún Laoghaire-Rathdown County Council, Cllr. Una     ​Power: "We're delighted to support emerging film talent in the County.  dlr First Frames provides an excellent opportunity for emerging filmmakers at a key stage of their career development. Dún Laoghaire-Rathdown has a wealth of amazing locations for film and this Scheme makes excellent use of these".
Application closing date is Wednesday 30th September 2020 at 5pm
For further information please email Bernadette Meagher on dlrfirstframes@iadt.ie
---
Image caption L-R: Therese Langan, Director of Community and Cultural Development, dlrcoco, Rónán O'Muirthile, Head of Faculty, Film, Art & Creative Technologies, IADT, An Cathaoirleach, Cllr Una Power, Kenneth Redmond, Arts Officer, dlrcoco, Helena Cunningham, Director of Finance and Economic Development, dlrcoco, David Smith, President, IADT.
News