Enterprise Week at IADT
Supporting and encouraging emerging entrepreneurial talent, IADT's annual Enterprise Week continues to grow from strength to strength.
Since it's inception in 2016, Enterprise Week is an important part of encouraging students to embark on their entrepreneurial journey.
Events taking place during the week include motivational talks from Ben Forsyth, former Pro MMA fighter, and founder of 8th Corner Café, a fireside panel on female entrepreneurship featuring Fiona Snow of CombiMark and Martha Gilheaney from 'The Looking Glass', presentations from the Patents Office on trademarks, copyright and intellectual property, and Peter Connor from Bullet on the topic of the Future of work.
IADT is also delighted to host the regional final of the Foróige NFTE competition on the 12th and 13th of March. Mentoring clinics were also provided, courtesy of Dún Laoghaire Local Enterprise week.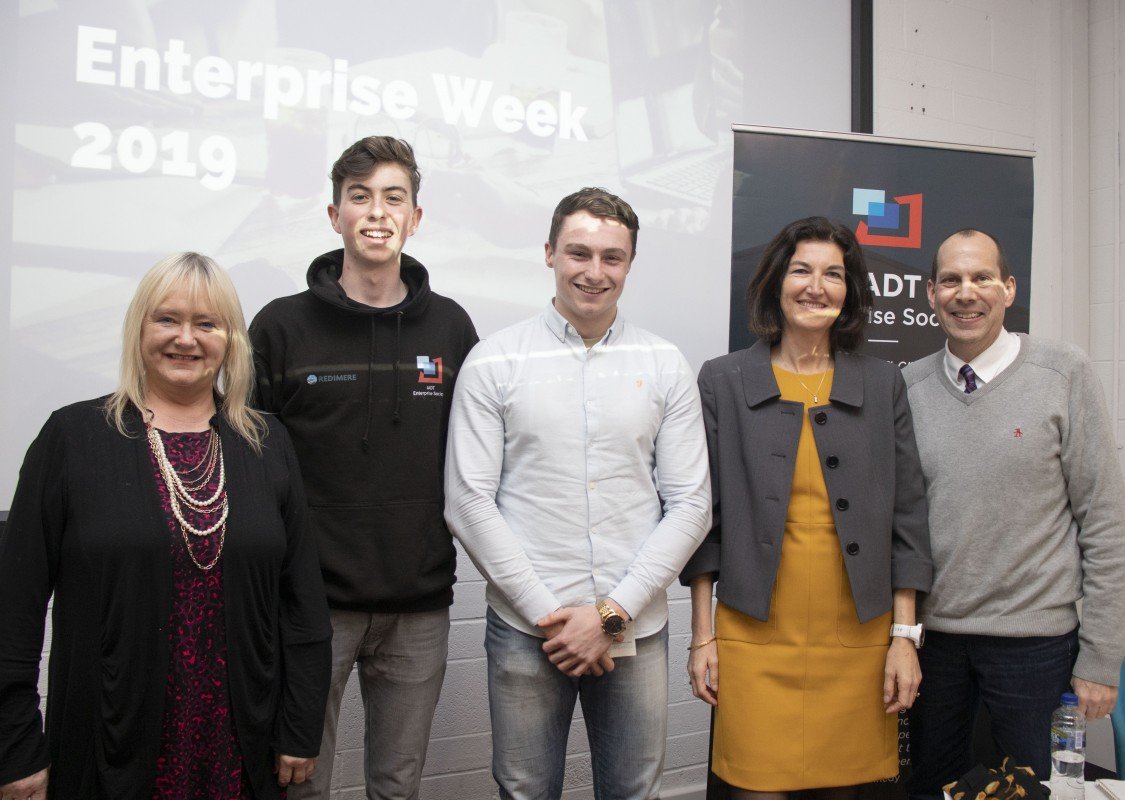 Highlights of the week included students pitching their business ideas at a Dragon's Den style event. The range of businesses this year included innovative parking applications, online calendar diaries, virtual therapies, Finnish candies, protein shakes, and online funding platforms.
This year's winner is first year Entrepreneurship student, Seán Kirwan of 'The Pitch' pictured here with international judges, Professor Christel Tessier, from Université Grenoble Alpes, IUT2 , Professor William Hitchcock, Loras College, Dubuque, Lisa Cunningham, MD of Vogue Business Development, accompanied by Tiarnán Dunne, president of the Student Enterprise Society.
Dr Therese Moylan, Head of the Department of Entrepreneurship congratulated the winners and all of the students who took part in the week and said that 'activities like Enterprise Week are an important part of the IADT institutional entrepreneurship ecosystem that supports emerging entrepreneurs and the collaboration with the Local Enterprise Office and the Media Cube incubation centre on campus are central to ensuring that we can offer entrepreneurial pathways to students of all disciplines'.
Event photography thanks to Ger Holland.
News