Graduate David J Moore new exhibition opens at Douglas Hyde Gallery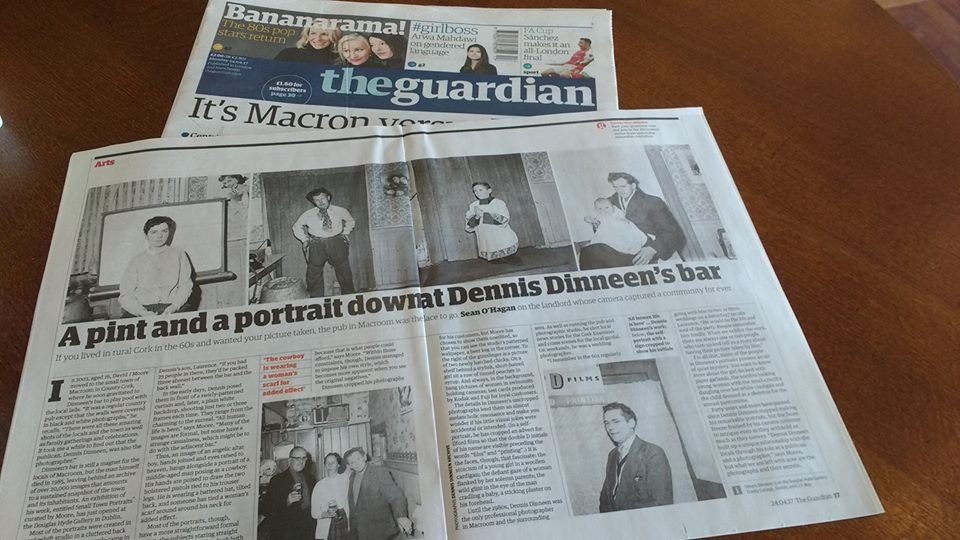 David J. Moore, Graduate of the BA (Hons) Photography Programme in 2016 has been working through the archive of the late West Cork photographer, Dennis Dinneen since 2014/2015. A selection organised by David was first shown at the Boole Library at UCC last year and has just opened in the main exhibition space at the Douglas Hyde Gallery with accompanying publication. An award-winning documentary photographer, David is now Creative Director of the Dennis Dinneen Archive.
Dennis Dinneen (1927–1985) worked as a publican, taxi driver, and most notably, a photographer in his home town of Macroom, County Cork. Dinneen's photographs, taken during the 1950s-70s, depict local people in a typical rural town in Ireland. His kind and humorous perspective allowed his sitters to appear at ease as they posed within the informal studio in a room adjacent to the bar of the main street pub.
Many of these pictures were originally printed on a modest scale and cropped to isolate faces for use on official documents, to be kept as mementos in wallets and purses, or to send to loved ones living overseas. The contemporary enlargement and detailed printing from the original negatives reveals many traces of a relatively recent but unreachable past. Emigration and the strong influence of the Church loomed large over the lives of many people, and the modernisation of the country's infrastructure brought an awareness of the possibilities outside of small town life. Evidence of these pressures and opportunities are an underlying refrain throughout many of Dinneen's individual portraits, while the boisterous group shots resonate strongly with community spirit.

The exhibition is accompanied by the first publication dedicated to Dennis Dinneen's 'Small Town Portraits'. Designed by Wayne Daly, it includes a new text by Kevin Barry that muses on the minutiae of daily life as described in Dinneen's photographs, and an essay by Rachel McIntyre that links Dennis Dinneen's work with the studio portraits of Mike Disfarmer and Seydou Keïta, who have previously exhibited in the Douglas Hyde Gallery.
Further articles can be found here
News