IADT and Sheridan College, Canada, sign historic transatlantic agreement for Animation education
IADT and Sheridan have signed a memorandum of agreement to explore the development of a collaborative MA in animation, accredited by IADT.
"Our partnership is a significant moment in the story of Animation Education in Ireland and Canada. IADT is proud to partner with Sheridan College which has a prestigious reputation globally." Dr Annie Doona, President, IADT.
The total value of the global animation industry was US$ 254 billion in 2017 and is projected to reach US$ 270 billion by 2020. The demand for animation, VFX and gaming has expanded with the increase in targeted broadcasting hours by cable and satellite TV, availability of low cost internet access, penetration of mobile devices along with the growing popularity of streaming video. In addition, the demand for Animation and VFX content to power immersive experiences such as Augmented Reality and Virtual Reality is growing exponentially. (GlobeNewswire, May 2018)
In Ontario, the visual effects and animation industry has grown over 300% since 2011, employing more than 7,000 artists and contributing over $400 million in revenue to the province, according to the Computer Animation Studios of Ontario (April, 2018).
"This is an exciting opportunity. The Animation Department staff at Sheridan College and IADT have engaged and developed a relationship over the last year. We are looking forward to a fulfilling partnership with IADT." Ronni Rosenberg, Dean, Animation and Game Design, Sheridan College.
The Irish animation industry has long been a creative cornerstone of Ireland's vibrant film industry, and has also witnessed substantial growth in the last decade. It is an integral and important component of Ireland's digital and creative economy, employing 1,600 full-time staff. Award-winning features and shorts, animated programming for adults, apps and games are being made here by our dynamic, technically advanced—and entirely indigenous—2D and 3D studios.
"The National Film School at IADT is delighted to sign this MOU with Sheridan College in Canada. We can now begin the process of designing a new MA in Animation in earnest, the first of its kind in Ireland. There are clear synergies between the two institutions and we look forward to developing an even deeper relationship to the benefit of all our students." Rónán Ó Muirthile, Head of Film + Media, IADT.
"This international partnership comes at a great time for the technological higher education sector and we are particularly delighted to see such a specialist alliance between such design-focussed institutions. International students are welcomed and sought after by all our members. Animation is clearly a growing industry using cutting edge new technologies and it is fitting that IADT have pinned down such a progressive partnership." Dr Joseph Ryan, CEO of THEA.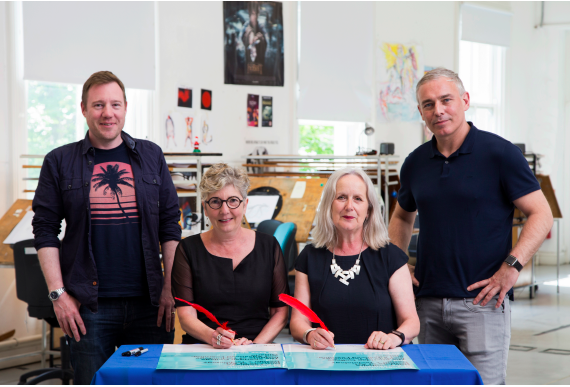 The partnership is facilitated under the Ontario Agreement and has been supported by the Higher Education Authority, Ireland. Witnesses to the signing of the agreement between Dr. Annie Doona, President IADT and Dr. Angela Stukator, Associate Dean, Animation and Game Design, Sheridan College were John Rice, CEO, Jam Media and Robert Cullen, CEO Boulder Media.
News