Bachelor of Business Applied Entrepreneurship
Ever thought you'd like to run your own business some day? That day begins on this practical course, in which you study entrepreneurship, management, marketing, digital marketing and finance.

Through project work you will get the opportunity to apply your classroom learning to real business ideas. This knowledge and the transferable skills you acquire are in high demand in business, either as an employee or an entrepreneur. This course is 80% continuous assessment and 20% exam-based. Small class sizes and direct relationships with the lecturing staff combine to make this the ideal course to develop the skills necessary to launch your business career.
Graduates from this course are eligible to progress to our one year add-on Level 8 in Business (DL801).
What will I do?
– Get real practical business experience:
Year 1: Set up and run your own business in a local market
Year 2: Go out on placement one day a week, or work on your own business idea.
Year 3: set up a social enterprise.
– Investigate how businesses develop new products and opportunities, and become adept at spotting new opportunities.
– Learn how to develop digital marketing strategies.
– Explore the internet and understand how technology relates to business
– Develop problem solving and critical thinking skills
– Examine the relationship between business and social enterprise.
– Enhance your presentation and communication skills.
– Learn more about Enterpreneurship at IADT by visiting www.iadtentrepreneurship.com.
What will I be able to do when I graduate?
Recent Graduates of this course have the following job titles:
Entrepreneurs – in the fields of Technology, Health, Education, Digital Marketing, Food, Fashion, Jewellery, Motoring Services, Social Entperise,Management Consultancy, Music & Web Development, Hospitality amongst many others.
Retail manager, Army cadet, Restaurant Manager, Client manager (Enterprise Ireland), Building Society lending officer, Pensions and Investments Officer, Finance Project Administrator, Marketing executive, Business Development Manager, Travel Agent,Estate Agent, Fund Raising Officer, Sales Representative, Pensions Administrator, Media Entrepreneur, channel marketing co-ordinator.
Recent Graduates are employed by:
Accenture/Oracle/Google/Sherry Fitzgerald/Sony Music/State Street/Microsoft/Paddy Power/AIB/Salesforce/Linkedin/Bank of America/Irish Times/Xerox Eukrope/AIG Group/Groupon/Mec Global Solutions.
Further Study:
Most graduates from this course progress to our add-on degree: DL801 – Bachelor of Business (Honours) in Entrepreneurship (Level 8 Award).
What modules will I study?
Year 1
Enterprise Practice, Introduction to Digital Marketing, Marketing for Entrepreneurs, Internet Applications 1, Learning for Business, Enterprise Management, Business Mathematics 1 and Finance 1.
Year 2
Enterprise Experience (work placement), Practice of Selling, Employability Skills, Project Management, Internet Applications 2, Enterprise Law, Economics 1, Business Mathematics 2 and Finance 2.
Year 3
Social Enterprise Practice, Innovation + Creativity, Data Management, Applied Data Management, Research for Entrepreneurs, Services Marketing Management, Economics 2 and Finance 3.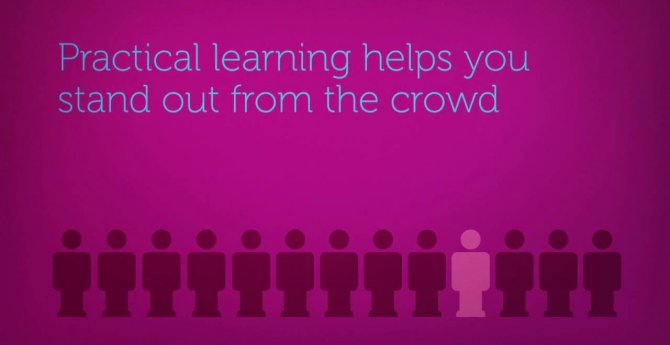 Related Galleries