The National Film School at IADT is a member of the European Universities Alliance for Film and Media Arts
FILMEU brings together four European Higher Education Institutions. Together, these institutions collaborate around the common objective of jointly promoting high-level education, innovation and research activities in the multidisciplinary field of Film and Media Arts and, through this collaboration, consolidate the central role of Europe as a world leader in the creative fields.
FilmEU brings together four European Higher Education Institutions:

Campus of the European Universities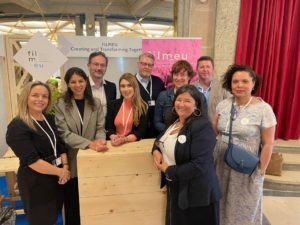 30th June 2022, the FilmEU team were present at the Campus of the European Universities in Versailles, along with the representatives of other 41 higher education alliances.
FilmEU Team had the opportunity to meet with the representatives, staff and students of all European Universities Alliances and had fruitful discussions on different approaches and challenges the alliances are dealing with. FilmEU representatives had also a chance to meet with the French Minister for Higher Education and Research Sylvie Retailleau.
The Campus of the European Universities was organised by the French Presidency in the European Commission. It was a great opportunity for networking and getting to know colleagues from other alliances.
FilmEU wins an EIT project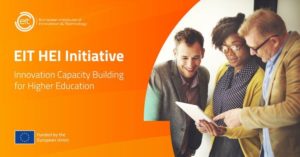 The European Institute of Innovation and Technology (EIT) announced the 26 winning consortia selected to take part in the EIT HEI Initiative. The FilmEU Alliance is a full partner in the C-ACCELERATE project, coordinated by IDBM and Aalto University. The C-Accelerate project aims to accelerate the role of creative communities through the exploration of entrepreneurial education and radical creativity within European education. The approval of C-Accelerate is a unique opportunity to boost the innovation capacity of our institutions.
Read more here.
After the Dublin FilmEU Summit 2022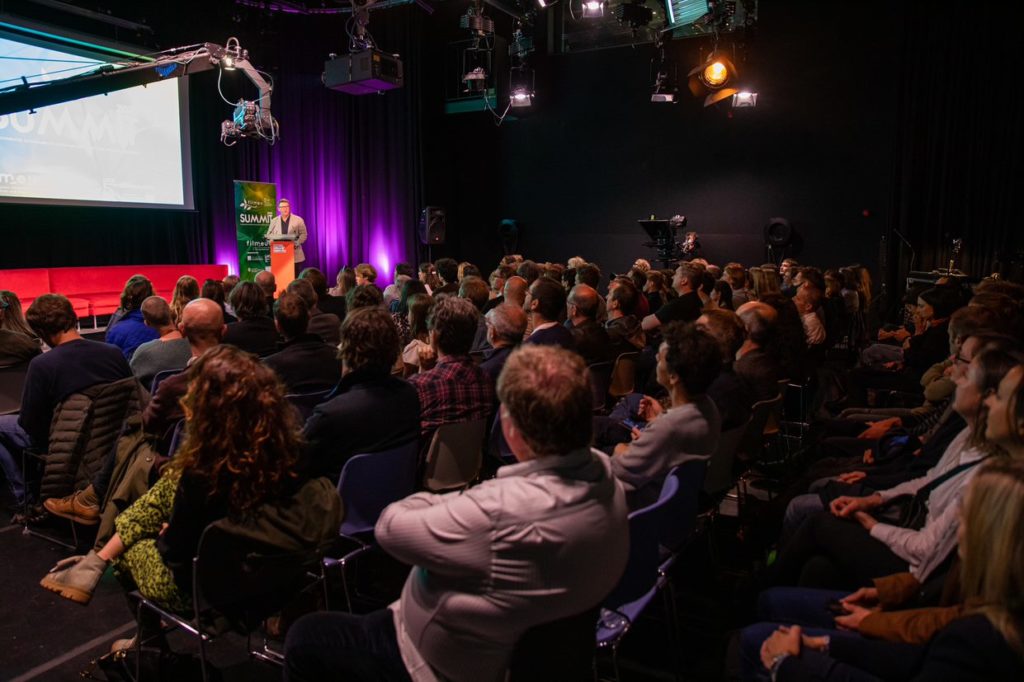 It was all about sustainability. On the first week of June 2022, FilmEU held its second annual summit hosted by the Institute of Art, Design and Technology in Dublin, Ireland. This event was all about Environmental Sustainability in Film Education and the wider Film and Media Arts Industries.
We kicked off the week with some inspiring speeches and by screening the short films made by our students during our first annual challenge which was about sexuality, gender and censorship. Wednesday was packed with keynote speakers and Round Table discussions. Speakers included policy makers, industry professionals, academic staff and of course students.
Wednesday and Thursday were about showcasing FilmEU's progress and to start a dialogue between EU4Art and FilmEU about Artistic Research.
On Friday we concluded the week with FilmEU's Doctoral Summer Seminar including presentations and panel discussions.
We want to thank all participants and guests who made this event an event to remember.
If you missed the event you can catch up as the public sessions were recorded and are available here:
FilmEU YouTube channel
Dublin FilmEU Summit (7-10th June)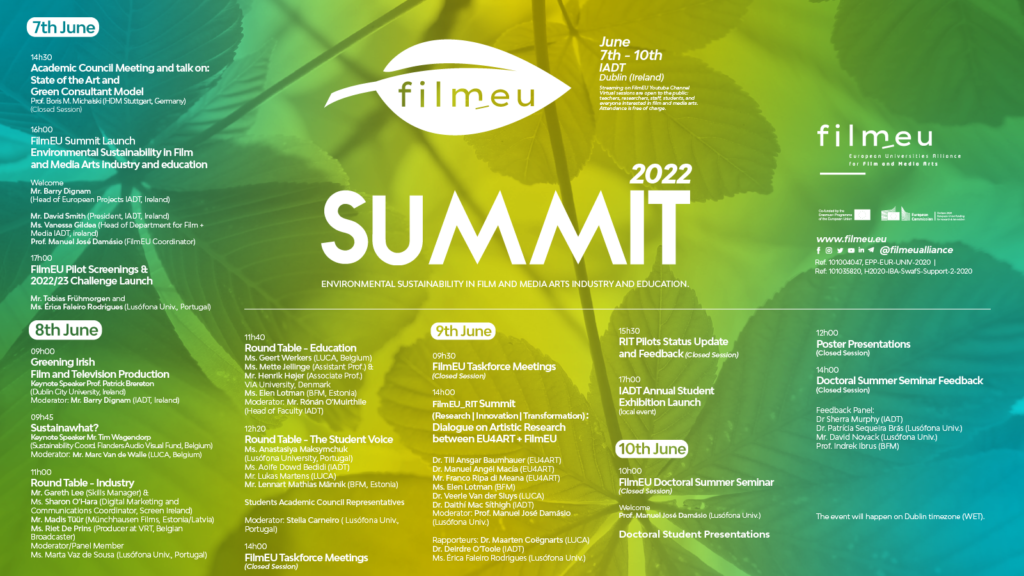 Come join us online for the 2nd FilmEU Summit (7-10th June) hosted by
IADT
. This year's theme is Environmental Sustainability. Speakers at the open sessions will include policy makers, industry professionals, academic staff and crucially, students.
The public sections will be streamed on FilmEU Youtube channel.
The event will happen on Dublin timezone (WET).
Follow FilmEu on social media @filmeualliance
Creative Process of Directing and Writing for Preschool Animation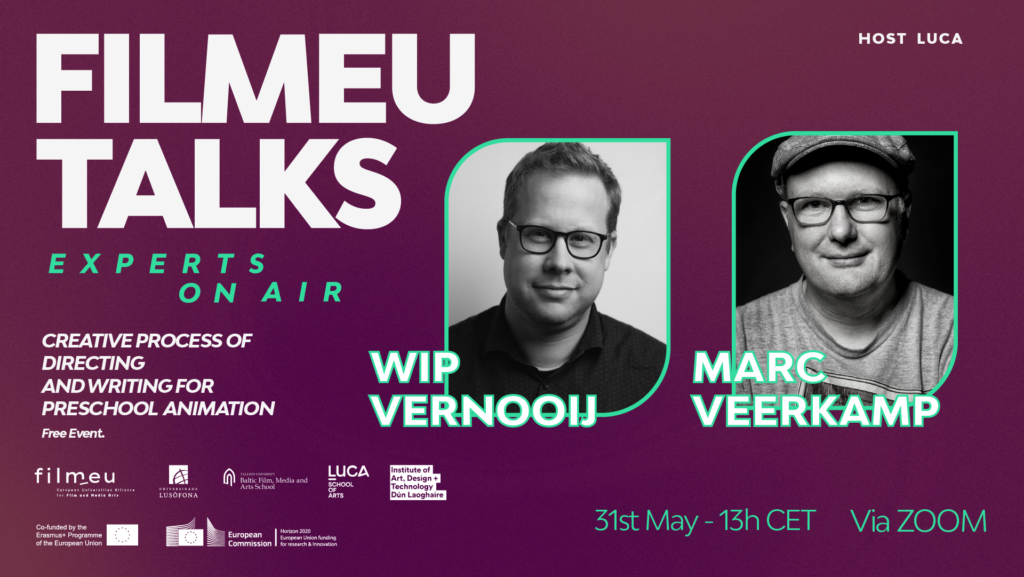 Wip & Marc will talk to us about their experience in the creative process of directing and writing for Preschool animation. Directing and writing the commercial preschool animation film 'Two Tiny Toddlers' during the pandemic also brought some new insights and challenges. They will provide us with some insights into this creative process.
Wip Vernooij (38) is a director, storyboard artist and animator, who most recently directed his second feature 'Two Tiny Toddlers', which will see a Dutch and Belgium release in 2022. It is the first 3D animated family film coming from the Netherlands.
Wip Vernooij has been named one of the Rising Stars of 2022 by the American magazine Animation Magazine!!! There he is, among people working at PIXAR and DreamWorks. Wip is someone who can make great strides on his own within narrow budgetary margins.
Mid 00's Wip started as an intern at the animation studio Lawson & Whatshisname, then one of only a very few studios in the Netherlands. Soon after he moved to London and studied traditional hand-drawn character animation after which he remained in the UK to work on a variety of projects as an animator and compositor for educational games, commercials and music videos. In 2013 Wip debuted as director on a 2D animated feature called 'Moshi Monsters the Movie'. He has since been involved in a number of TV-series and developments for young audiences as storyboard artist, series- and episodic director. Such as Wellie Wishers (Mattel), Fox & Hare (Submarine) and Dr. Panda (Dr. Panda)
Marc Veerkamp (Alkmaar, 1971) studied journalism and screenwriting. He started out as a journalist specializing in pedagogical subjects. During his career he shifted his focus to fiction. Nowadays Veerkamp mainly writes for film, television and theater. He was part of the writing team of SESAMSTRAAT for over 17 years. After that he also wrote for other Dutch youth series, such as HET ZANDKASTEEL and VRIJLAND.
He regularly works on animation projects. He also wrote, for the NTR-series GEORGE & PAUL, the Telemovie DE TAND DES TIJDS and the feature film 'Two Tiny Toddlers'.
As a theater writer Veerkamp works for both children (e.g. RAAD EENS HOEVEEL IK VAN JE HOU) and adults (e.g. MA, based on the book of the same name by Hugo Borst).
He also published a children's novel about KING ARTHUR and the picture book BEER IS NOOIT ALLEEN with illustrator Jeska Verstegen. Together with writer Bart Juttmann he wrote the yet-to-be-published book EN HET WOORD WERD BEELD, in which the writing process of 50 classic films and series is described.
The event is free, register here.
Navigating the Festival Circuit

Grainne Humphreys is Festival Director of the Dublin International Film Festival since 2008. She started her career working with young audiences with the Junior Dublin Film Festival in 1994 and she has worked in film programming for over twenty five years. In 1995, she joined the IFI as Education Officer and expanded her role to include special seasons including a focus on the film work of diverse figures such as Andy Warhol, Agnes Varda and Harold Pinter. She was director of both the Stranger Than Fiction Documentary Festival and the Dublin French Film Festival from 2002- 2007. Among other projects, she co-edited Ireland into Film, a series of publications on Irish Cinema. She teaches a course on Film Distribution & Exhibition at Griffith College Dublin as well as Film Programming at University College Dublin.
Read more:
https://www.filmeu.eu/news-and-events/filmeu-talks
Follow FilmEU on social media:
@filmeualliance
Olga Lucovnicova - From being a student to an awarded filmmaker in one year: Challenges of First-Person Filmmaking

Olga Lucovnicova (Moldova, 1991) is a Belgium based documentary filmmaker and aspiring researcher in the field of audiovisual arts. She studied six years of cinematography at the Academy of Arts of Moldova and two years of documentary filmmaking at DocNomads, an Erasmus Mundus Joint Master Program delivered by a consortium of three prominent European universities across three countries: Portugal, Hungary and Belgium. Currently, Olga pursues her studies in film at the doctoral school at KU Leuven University. She was awarded an FWO (The Research Foundation – Flanders) fellowship for fundamental research for her personal doctoral research project on post-memory in the post-Soviet society and its research through first-person documentary film.  Olga moved to Belgium in September 2019 to pursue her studies at LUCA School of Arts. Her graduation film "My Uncle Tudor" produced in Belgium, premiered in Berlinale in 2021 and was awarded the Golden Bear. "My Uncle Tudor" also won the European Film Academy Award, which is the European equivalent of the Oscar. The film travelled to over 40 film festivals and was awarded many important awards like the Golden Chair for Best Short Documentary at Norwegian FF, Best Short Documentary award at Ismailia IFF in Egypt, Big Stamp for Best Short Film at the ZagrebDox FF in Croatia, Best European Short at Sarajevo FF in Bosnia and Herzegovina, Best Director at Astra FF in Romania, Best Short Documentary at Guanajuato IFF in Mexico and many others.
Olga is a member of The European Film Academy and Moldavian Union of Cinematographers (MUC).
Read more:
https://www.filmeu.eu/initiatives-and-events/filmeu-talks-experts-on-air/
The event is free, but registration is mandatory.   link
Dr Vejune Zemaityte - Cultural data analytics for understanding today's cinema – 10th May 13H CET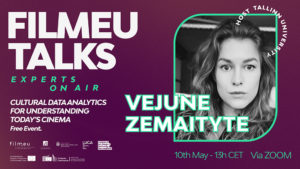 Dr Vejune Zemaityte is Senior Research Fellow at the ERA Chair for Cultural Data Analytics in the Baltic Film, Media and Arts School at Tallinn University, Estonia. Vejune uses computational data analysis and visualisation techniques including Social Network Analysis to study global film industries, with a primary focus on cultural and gender diversity. Her work is interdisciplinary, data-driven, and industry-facing, often performed in collaboration with external partners such as Festival de Cannes, Women in Motion, or the Australian Cinematographers Society.
With ever-increasing amounts of data available about the global film industries, how do we as researchers select the important questions to pursue and the appropriate methodologies to adopt in order to answer them? In this talk, Vejune Zemaityte draws upon her experience of working as part of multidisciplinary research groups, as well as on industry-facing research collaborations, to discuss the nature of data-driven work concerning diversity and global cinema.
The event is free! Register here.
FilmEU Cineclub
Cineclub is where four film nights will be organized throughout the academic year 2021-2022.  Each partner of the FilmEU alliance will organize a night where students and staff can watch a film that will take place simultaneously at the four institutions.  These screenings will take place on the 20th of October, 10th of November and the 9th of February and March.  Students will not only watch an international film but they will also get a chance to participate in a masterclass with a question and answers session with guest speakers.  The first film Vitalina Varela is Portuguese and the Director Pedro Costa will be available for discussion after the show.
FilmEU Talks - Experts on Air!
Experts on-Air is a new initiative aiming at reinforcing this diversity and openness by inviting experts in different domains of film and the media arts to present and discuss with us their achievements and experiences and the lessons they entail. These talks will reinforce our ability to connect to society and others and more importantly it will foster the ideals of collaboration and mutual reinforcement that shape FilmEU. Let the talks begin!
Creative Futures Academy – Animation@StoryLAB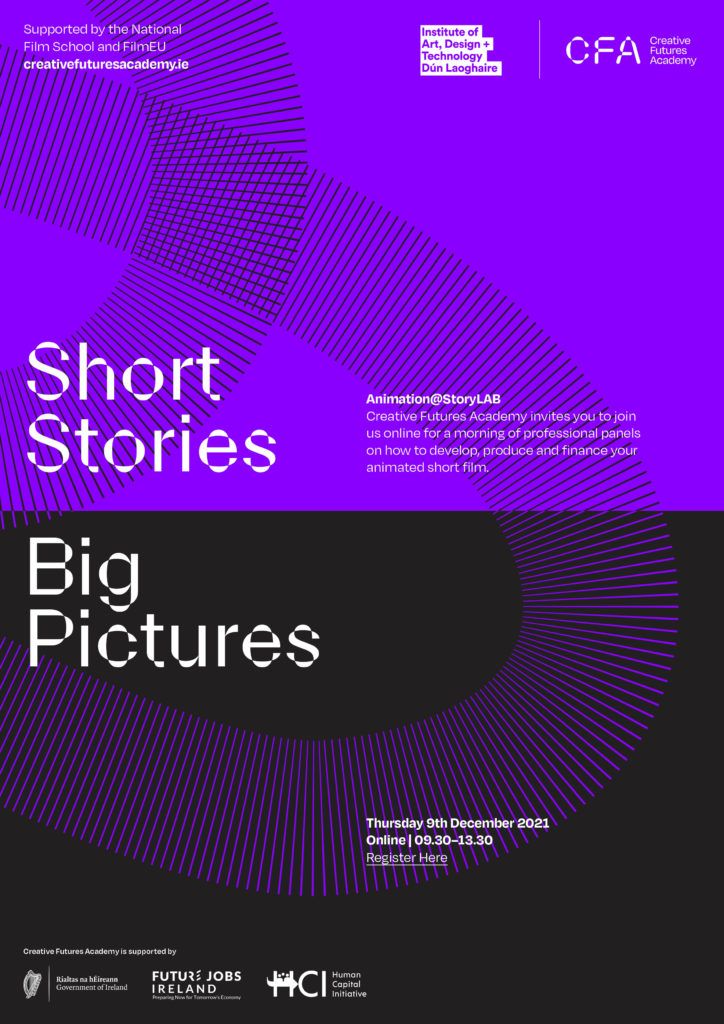 FilmEU Summit 2021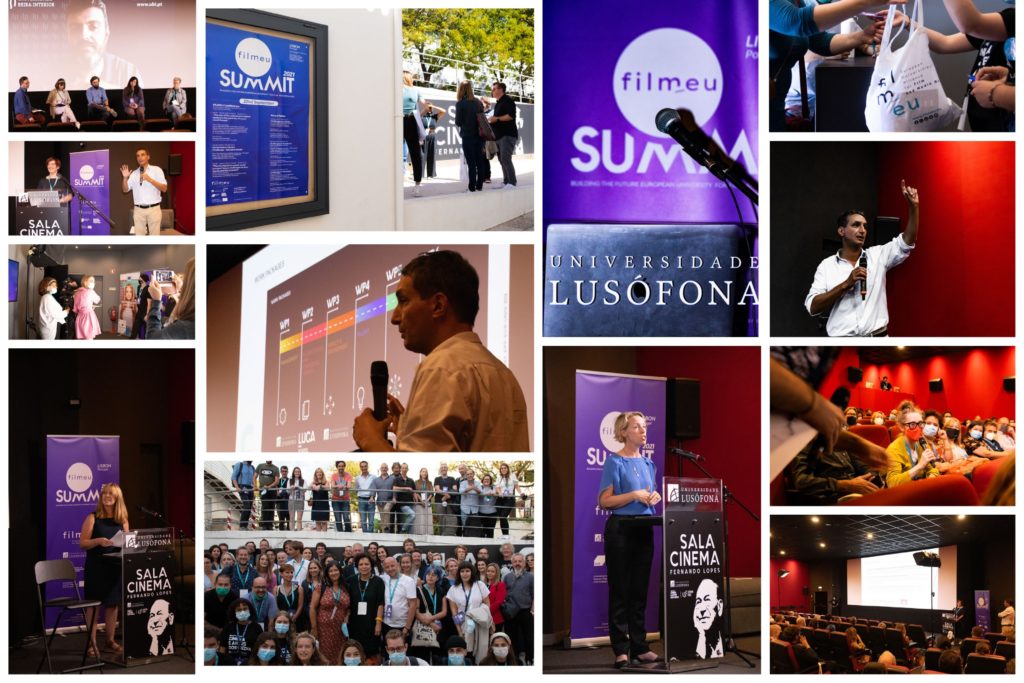 Barry Dignam | Head of Department of European Projects

"The summit was a delight and a huge success. Not only did we get to meet our colleagues face to face for the first time, but we also had the opportunity to reach out and discuss some of the most pressing issues facing film education and indeed society as we look toward a post-pandemic Europe".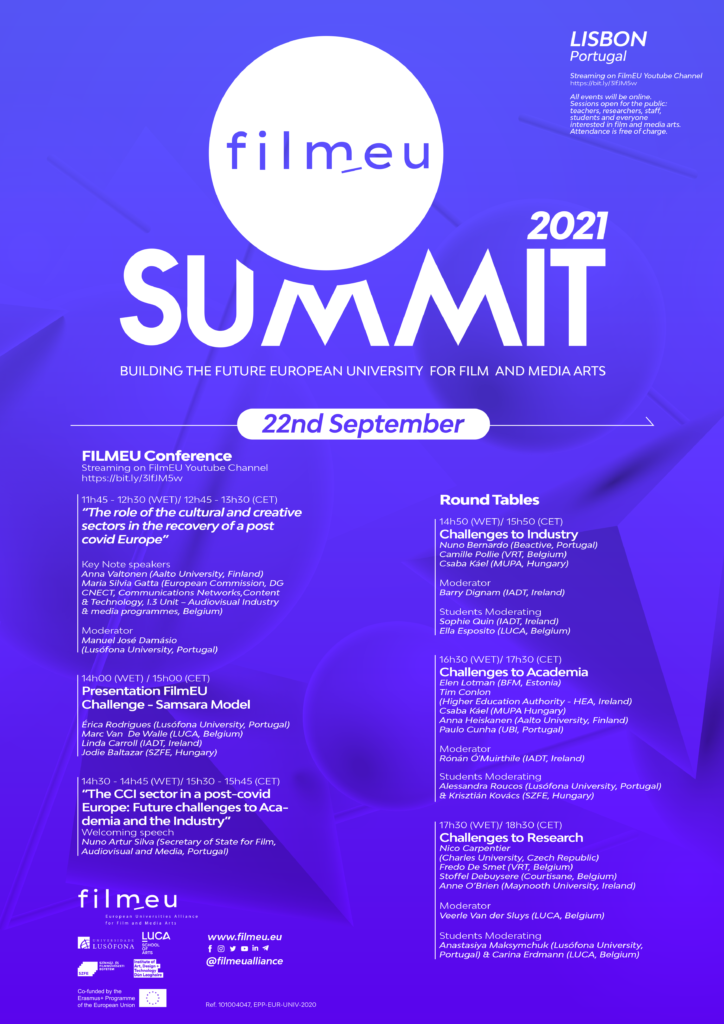 To highlight the alliance's main objectives and future plans, a FilmEU summit is organized every year. The summit takes place in September and is symbolically linked to the start of a new and fruitful academic year. Last year's summit was organized online from September 21 until September 24 and was open to the public on the 22nd. The day consisted of talks and roundtable discussions revolving around the challenges that arise within the field of film and media in a (post-) covid world and how to tackle them. All speakers were experts in their respective domains.
---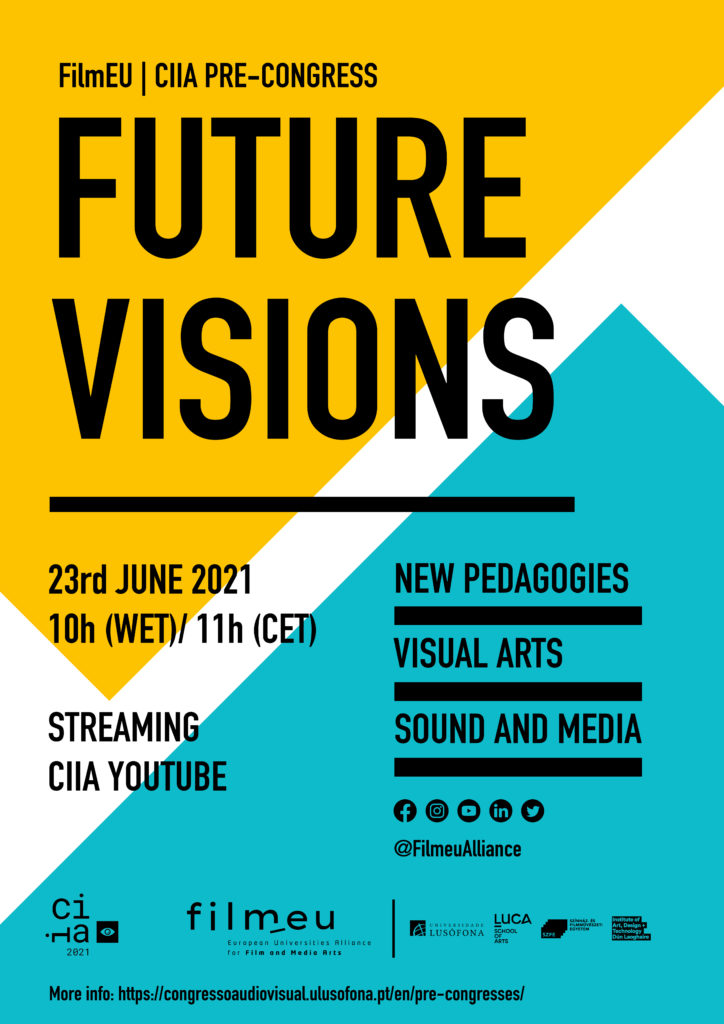 "IADT is delighted to have been selected to help shape the vision of what the university of the future will look like. Along with our international partners we have been awarded funding of €5m to create the concept of FilmEU, a European University of Film and Media Arts.

Involving students, staff and industry stakeholders we will spend the next three years finding best practice within our institutions and across the globe to synthesise and pilot innovations that encompass all spheres of activity of a modern university."

Barry Dignam, Head of the Department of European Projects
National Film School IADT
European Universities Initiative
Together, we collaborate around the common objective of jointly promoting high-level education, innovation and research activities in the multidisciplinary field of Film and Media Arts and consolidate the central role of Europe as a world leader in the creative fields.
FilmEU is focused on long-term strategic collaboration and our mission is to create a European University that is a model for collaboration in the fields of the Arts and the creative industries and that will greatly contribute to Europe's leading role as a provider of education and research in the creative and artistic areas.