The National Film School at IADT is a member of the European Universities Alliance for Film and Media Arts
FilmEU brings together four European Higher Education Institutions:

Olga Lucovnicova - From being a student to an awarded filmmaker in one year: Challenges of First-Person Filmmaking

Olga Lucovnicova (Moldova, 1991) is a Belgium based documentary filmmaker and aspiring researcher in the field of audiovisual arts. She studied six years of cinematography at the Academy of Arts of Moldova and two years of documentary filmmaking at DocNomads, an Erasmus Mundus Joint Master Program delivered by a consortium of three prominent European universities across three countries: Portugal, Hungary and Belgium. Currently, Olga pursues her studies in film at the doctoral school at KU Leuven University. She was awarded an FWO (The Research Foundation – Flanders) fellowship for fundamental research for her personal doctoral research project on post-memory in the post-Soviet society and its research through first-person documentary film.  Olga moved to Belgium in September 2019 to pursue her studies at LUCA School of Arts. Her graduation film "My Uncle Tudor" produced in Belgium, premiered in Berlinale in 2021 and was awarded the Golden Bear. "My Uncle Tudor" also won the European Film Academy Award, which is the European equivalent of the Oscar. The film travelled to over 40 film festivals and was awarded many important awards like the Golden Chair for Best Short Documentary at Norwegian FF, Best Short Documentary award at Ismailia IFF in Egypt, Big Stamp for Best Short Film at the ZagrebDox FF in Croatia, Best European Short at Sarajevo FF in Bosnia and Herzegovina, Best Director at Astra FF in Romania, Best Short Documentary at Guanajuato IFF in Mexico and many others.
Olga is a member of The European Film Academy and Moldavian Union of Cinematographers (MUC).
Read more:
https://www.filmeu.eu/initiatives-and-events/filmeu-talks-experts-on-air/
The event is free, but registration is mandatory.   link
Dr Vejune Zemaityte - Cultural data analytics for understanding today's cinema – 10th May 13H CET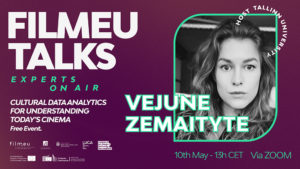 Dr Vejune Zemaityte is Senior Research Fellow at the ERA Chair for Cultural Data Analytics in the Baltic Film, Media and Arts School at Tallinn University, Estonia. Vejune uses computational data analysis and visualisation techniques including Social Network Analysis to study global film industries, with a primary focus on cultural and gender diversity. Her work is interdisciplinary, data-driven, and industry-facing, often performed in collaboration with external partners such as Festival de Cannes, Women in Motion, or the Australian Cinematographers Society.
With ever-increasing amounts of data available about the global film industries, how do we as researchers select the important questions to pursue and the appropriate methodologies to adopt in order to answer them? In this talk, Vejune Zemaityte draws upon her experience of working as part of multidisciplinary research groups, as well as on industry-facing research collaborations, to discuss the nature of data-driven work concerning diversity and global cinema.
The event is free! Register here.
FilmEU Cineclub
Cineclub is where four film nights will be organized throughout the academic year 2021-2022.  Each partner of the FilmEU alliance will organize a night where students and staff can watch a film that will take place simultaneously at the four institutions.  These screenings will take place on the 20th of October, 10th of November and the 9th of February and March.  Students will not only watch an international film but they will also get a chance to participate in a masterclass with a question and answers session with guest speakers.  The first film Vitalina Varela is Portuguese and the Director Pedro Costa will be available for discussion after the show.
FilmEU Talks - Experts on Air!
Experts on-Air is a new initiative aiming at reinforcing this diversity and openness by inviting experts in different domains of film and the media arts to present and discuss with us their achievements and experiences and the lessons they entail. These talks will reinforce our ability to connect to society and others and more importantly it will foster the ideals of collaboration and mutual reinforcement that shape FilmEU. Let the talks begin!
Creative Futures Academy – Animation@StoryLAB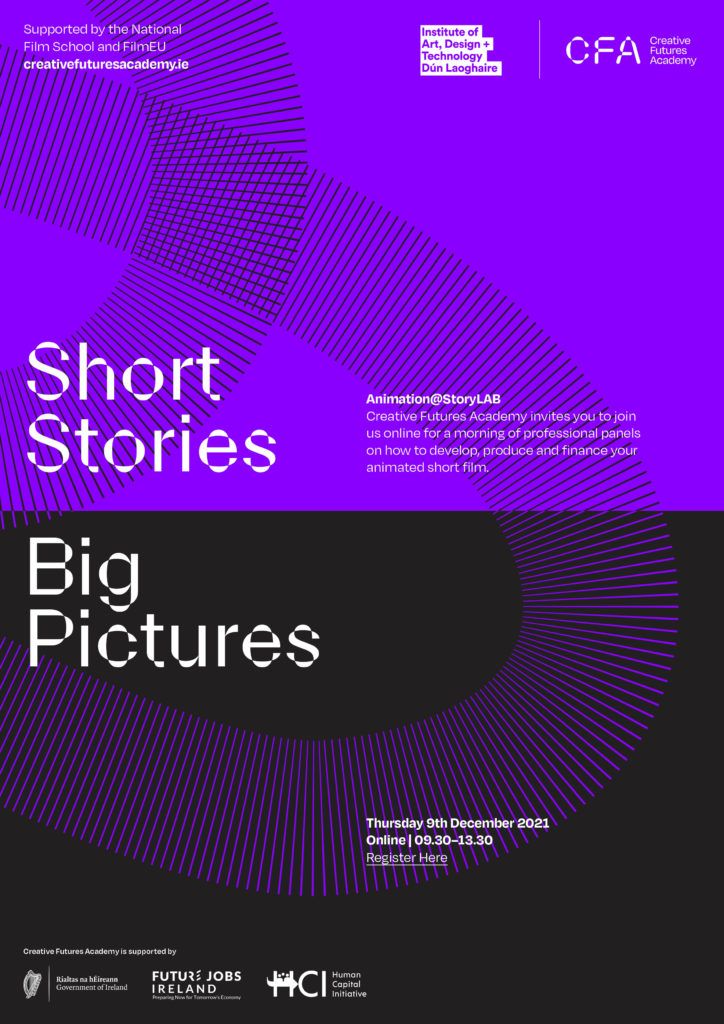 FilmEU Summit 2021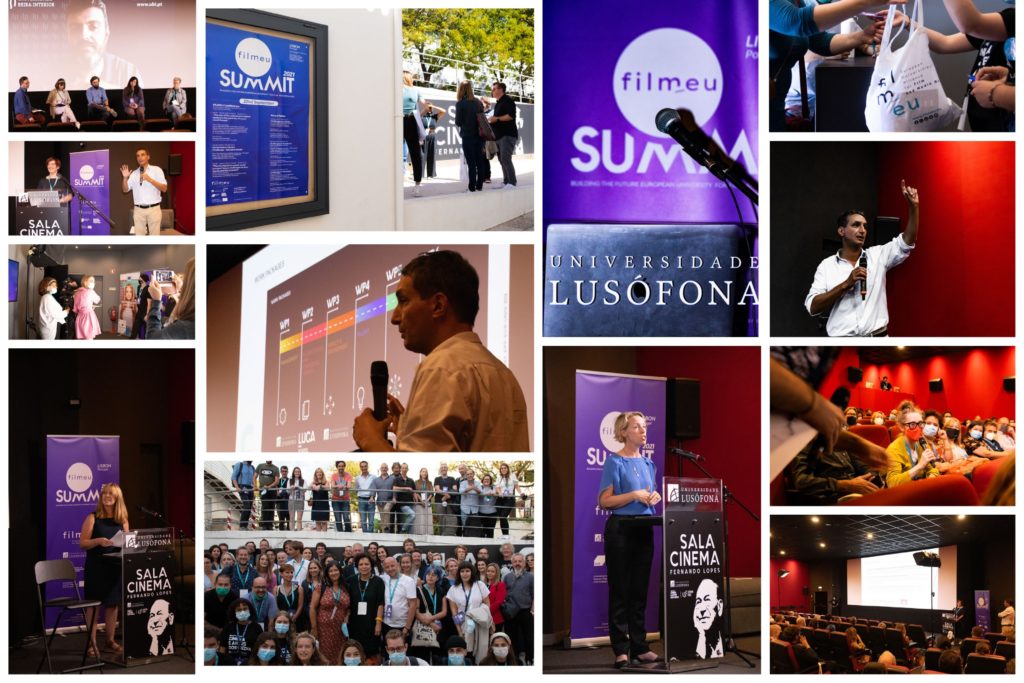 Barry Dignam | Head of Department of European Projects

"The summit was a delight and a huge success. Not only did we get to meet our colleagues face to face for the first time, but we also had the opportunity to reach out and discuss some of the most pressing issues facing film education and indeed society as we look toward a post-pandemic Europe".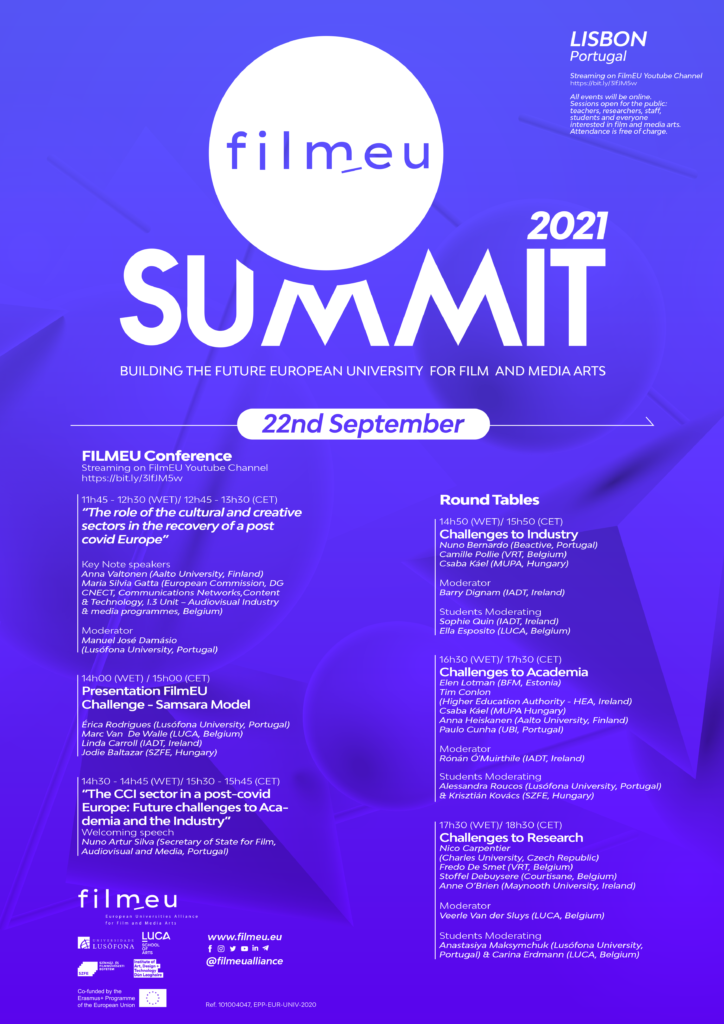 To highlight the alliance's main objectives and future plans, a FilmEU summit is organized every year. The summit takes place in September and is symbolically linked to the start of a new and fruitful academic year. Last year's summit was organized online from September 21 until September 24 and was open to the public on the 22nd. The day consisted of talks and roundtable discussions revolving around the challenges that arise within the field of film and media in a (post-) covid world and how to tackle them. All speakers were experts in their respective domains.
---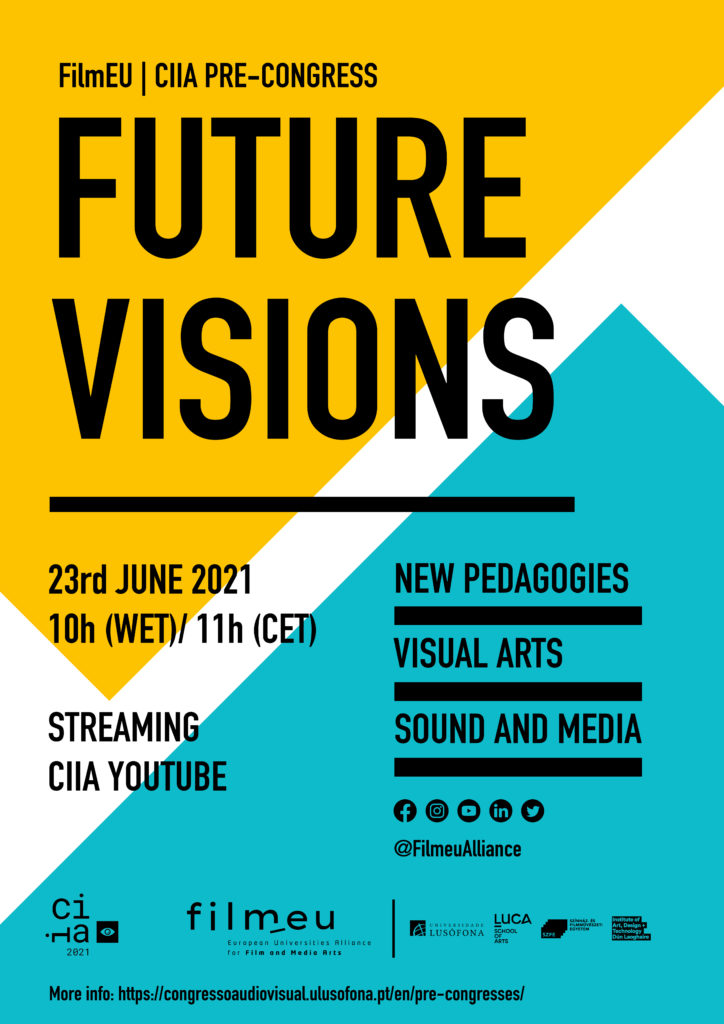 "IADT is delighted to have been selected to help shape the vision of what the university of the future will look like. Along with our international partners we have been awarded funding of €5m to create the concept of FilmEU, a European University of Film and Media Arts.

Involving students, staff and industry stakeholders we will spend the next three years finding best practice within our institutions and across the globe to synthesise and pilot innovations that encompass all spheres of activity of a modern university."

Barry Dignam, Head of the Department of European Projects
National Film School IADT
European Universities Initiative
Together, we collaborate around the common objective of jointly promoting high-level education, innovation and research activities in the multidisciplinary field of Film and Media Arts and consolidate the central role of Europe as a world leader in the creative fields.
FilmEU is focused on long-term strategic collaboration and our mission is to create a European University that is a model for collaboration in the fields of the Arts and the creative industries and that will greatly contribute to Europe's leading role as a provider of education and research in the creative and artistic areas.