Some IADT courses ask prospective students to submit
a portfolio, which should demonstrate your enthusiasm for the course as well as your interests and strengths.

Please use the guidelines below to help put together your portfolio; they are designed to help you ensure it becomes the perfect showcase for your work.
Digital Portfolio
The Digital Portfolio Submission platform for 2024 applicants will open before Christmas with the final date for submissions being 11th March 2024.
Before you start your Digital Portfolio Submission:
You will need your CAO number to begin your submission. All courses which require portfolio assessment must have been included on your CAO application by February 1st.
Your digital portfolio should have a minimum of 10 pieces and a maximum of 25 pieces uploaded to your submission.
We have prepared some helpful tips for photographing your work.
Film + video files must be under 5MB for upload, larger files must be submitted via a url: YouTube, Vimeo, etc. Please make sure that any online videos are public and password free for assessing.
The Digital Portfolio Submission platform for 2024 applicants will open before Christmas with the final date for submissions being 11th March 2024.
We do not offer extensions to the submission deadline.
You may find it helpful to watch our Digital Portfolio Submission info session video here.
Click on the link below to start your Digital Portfolio Submission:
Guidelines for your Digital Portfolio Submission
---
Virtual Project Days- Please note Virtual Project Days have now ended
Virtual Project Days will take place 12th to 14th February 2024 (Monday to Wednesday mid-term)
You can download this year's Project Days Brief HERE
You must register for the Virtual Project Days in advance
You must submit all of your work for  the Virtual Project Days HERE by 11th March 2024
If you do not have a portfolio of work that you feel strongly about you can be assessed on your performance on a  Virtual Project Day without the need to submit a portfolio.
You can equally attend a Virtual Project Day and submit a Digital Portfolio, the highest grade achieve in either will be your final score for that course.
Once you have applied to IADT via the CAO before 1st February our Admissions team will contact you via email regarding the Virtual Project Days.
Applicants are only required to attend one Virtual Project Day date.
If you're a  NON-EU applicant you will need to have applied directly to iadt.ie on or before 1st February also.
You do not need to fully complete the Project Day brief in advance of the Virtual Project Day, however it is recommended to start in advance of the day so that you can discuss it during. The brief does need to be completed by the March 11th Deadline.
Courses that currently offer Virtual Project Day are:
---
Portfolio Masterclass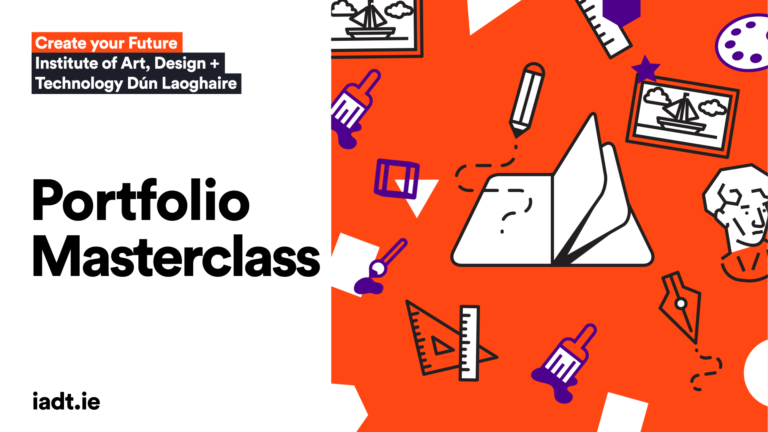 Portfolio Masterclass Student Discussion
See below advice + FAQs
How do I submit my digital portfolio to more than one course?
Once you have completed your first submission the system will allow you to duplicate your portfolio and assign it to another Course. (select option in My Submissions > copy).
I am unable to submit my portfolio digitally, what are my alternative options for portfolio submission?
We are currently not able to accept physical portfolios at IADT, in time this may change but we are currently bound by HSE restriction.
If you cannot access the Digital Portfolio submission platform you may submit your portfolio on a USB stick via post to:
Portfolio Submission
Admissions Office
Institute of Art, Design + Technology
Kill Avenue, Dún Laoghaire,
Co. Dublin, Ireland, A96 KH79
If you are submitting via USB please email us to confirm this along with proof of postage.
When will I receive my results?
We expect to email results within 21 days of the final submission deadline.
Do I need to document and submit every piece from my physical portfolio or an overview?
We allow up to 25 pieces (pages) to be uploaded with your submission. If you have a greater quantity of work you should make a final selection that showcases the very best of your work and suitability for your Course of choice. See our Portfolio Guidelines.
Do I need to photograph and submit pages from my notebooks?
Yes – we are always interested in seeing your process work and development studies. You may consider creating a collage of pages to show the range of investigations. Or consider a short movie see Photo Tips and Guidelines here.
Should I receive a confirmation to acknowledge that IADT have received my portfolio submission?
Yes – you will receive confirmation on the Award Force Platform that your portfolio has been submitted online. If you wish to check please email admissions@iadt.ie
If I have any queries about the submission process, who do I contact?
Please contact IADT Admissions Office: E: admissions@iadt.ie or T: +353 1 239 4621.
What will happen to my digital submission after assessment? Do you delete files?
We will retain all Applicant files until the end of the recruitment period – date of final application offered being made in 2023. Once all offers have been made all data will be securely deleted according to GDPR guidelines.
Will there be an opportunity to receive feedback on my digital submission?
In normal circumstances IADT provides all applicants with feedback following their portfolio submission on campus. Given the dramatic change in circumstances we are unsure if it is possible to provide feedback this year. We are exploring alternatives and will advise if this is possible soon.
How are Portfolios scored?
Portfolios + Project Days are scored out of 600 points; the pass mark is 240 points (40%). If you score less than 240 points you will not be eligible this year and we can not offer you a place but we would encourage you to re-apply next year.
If you opted to take part in Project Days and you also submit a portfolio you will be scored separately for each, we will record your highest score achieved and add this to your Leaving Certificate [or equivalent] to give your final score.
Example:
Take your best score from either Portfolio submission or Project Days; eg 400.
Take your Leaving Certificate points, mature student score or FETAC points; eg – 360.
Add [1] + [2]; eg 400 + 360 = 760.
This is your total points score with which you compete for a place on the course.
For further details or queries please contact IADT Admissions Office:
E: admissions@iadt.ie or T: +353 1 239 4400.