DL927-Postgraduate Diploma in Business Circular Economy
Entrepreneurship
As businesses strive to meet the challenges and demands of global warming, climate change and sustainability, there is an increased need for graduates who have knowledge and competencies to enagage in a meaningful way to develop new models for sustainable business.
Springboard+
Springboard+ is co-funded by the Government of Ireland and the European Social Fund as part of the ESF programme for employability, inclusion and learning 2014-2020.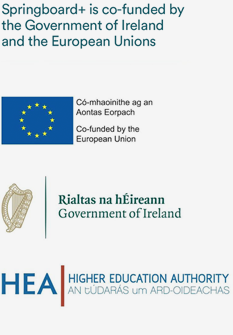 What is Circular Economy Entrepreneurship?
This Level 9  Postgraduate Diploma in Business – Circular Economy Entrepreneurship is designed to create critically aware and relevantly skilled potential entrepreneurs and business people who have a depth of understanding of the Circular Economy – its roots and antecedents and its potential for the future.
What will I study?
This innovative programme will provide students with valuable insights into emerging sectoral practices in the circular economy in Ireland and internationally. Using current research and relevant best practise. The aim of this programme is to ensure that learners:
Enhance their critical thinking skills in the area of the circular economic
Understand the current developments nationally and internationally that inform the development of the circular economy
Evaluate and report on 'real-world' circular economy business scenarios
Develop competency in finance and marketing as it applies to the circular economy
Work to develop their own curricular business ideas and projects
The need for this programme is supported by the trends and demands that are emerging nationally and locally.
What modules will I study:
Circular Economy
Circular Finance and Investment
Digital marketing and branding
Circular Economy Case Studies
Sustainable entrepreneurship
Future Careers
Entrepreneur, Sustainability Office, Sustainability Manager, Sustainability Policy Officer, Sustainability and Ethics Co-ordinator, Sustainability Analyst, Sustainability and Responsible Investing Associate, Sustainability Consultant, Sustainability Reporting Lead.
Timetable Information
Induction takes place on Friday the 13th October and Saturday the 14th October on campus, attendance is mandatory.
One full day on campus & one evening online.
Careers workshop will be held in March 2024.
Related Galleries