DL852-Higher Diploma Digital Business
+ Data Analytics
In the current world of work, technology and business are increasingly intertwined. There is a real need for graduates who understand the role of digital technology in business development and business transformation, underpinned by an understanding of the role of data analytics. This programme seeks to develop competences that address this need.
Springboard+
Springboard+ is co-funded by the Government of Ireland and the European Social Fund as part of the ESF programme for employability, inclusion and learning 2014-2020.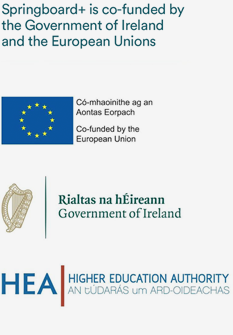 What is Digital Business + Data Analytics?
The programme is designed to enable learners to acquire the advanced knowledge, skills and competencies required to work in a business capacity to a high professional standard. The course has a particular focus on developing digital skills such as enterprise cloud computing, digital business transformation and data analytics. Learners will gain a thorough knowledge of the integral interrelationships between data analytics and digital business, furthermore they will identify skills gaps in the area of engagement in digital technology.
The aim of this programme is to ensure that learners gain thorough knowledge of the following skills:
Enhance critical thinking skills in the area of digital business transformation
The application of appropriate digital technologies in business
Evaluation and reporting on 'real-world' business scenarios
Competency development in digital business such as business analytics
Competency development in the use and critique of digital platforms for data analysis, cyber law and enterprise cloud systems
Learners will be offered the opportunity to do an industry-based project or to avail of a work placement with a company to gain work experience as a member of a professional team. This will form part of the formal accredited programme.
What modules will I study?
Digital and Cyber Law
Digital Business Innovation
Digital Business Transformation
Data and Analytics on Cloud Infrastructure
Industry Project
Future Careers
Digital business development, Digital sales and CRM, Customer Services , Digital Analyst, Digital Strategist, Digital Client support.
Timetable Information
Induction takes place on Friday the 13th October and Saturday the 14th October on campus, attendance is mandatory.
One full day on campus + one evening online per week.
Careers workshop will be held in March 2024.
Related Galleries