DL846-Higher Diploma in Business Digital Content
Creation
This Part-Time Higher Diploma in Business (Level 8 - 60 credits)in Digital Content Creation will equip graduates with the capability and skills set to develop content for building digital assets.
Springboard+
Springboard+ is co-funded by the Government of Ireland and the European Social Fund as part of the ESF programme for employability, inclusion and learning 2014-2020.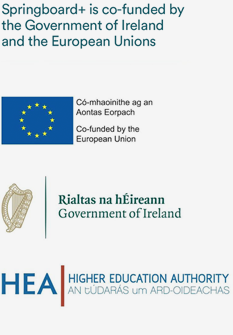 This course is free for eligible job-seekers and offered at a significantly subsidised rate for those in employment via the Higher Education Authority Springboard+ initiative. Springboard+ is open to eligible job-seekers, home-makers and individuals in employment.
---
What is Digital Content Creation?
Students will acquire skills in writing for digital media, learn the techniques of production for podcasting and vlogging. They will understand and acquire the skills to create content to grow a digital sales pipeline and understand how to prospect customers in a digital landscape.
They will utilise SEO and analyse the data emerging from the SEO tools and they will be introduced to platforms used by businesses to manage online sales.
This is a practical, hands on programme and assessments are all project based. This will enable students to become proficient in the area of content development. The programme incorporates a work-based project, which will involve working on projects relating to their employment. Students who are currently seeking employment will be offered the opportunity to go on a work placement, or research and develop an e-portfolio of digital content of their choice.
What modules will I study?
Digital Marketing
Production
Post Production
Project
On completion of the programme students will be able to:
Understand the role of digital marketing in delivering strategic marketing objectives
Conduct a critical evaluation a range of social media platforms as marketing tools
Design and create a business website
Create, assemble and edit images, video and audio using appropriate software tools
Produce auditory and visual promotional material
Demonstrate technical proficiency across a range of content creation tools and platforms through the creation of an e-portfolio
Research a real world business scenario and create a suite of digital artefacts to support it.
Curate and synthesise learning and material from the other three modules in the programme.
Think critically about digital business and marketing
Future careers
Career opportunities exist in the wider domain of digital business including roles such as Content Manager, Content specialist, Digital Sales, Digital Marketing, Content and digital strategist, Digital business development
Related Galleries