DL917-Postgrad Diploma in Business Digital Entrepreneurship
This postgraduate diploma in business in Digital Entrepreneurship (Level 9 - 60 credits) will develop your essential digital knowledge and give you the skills to set up and succeed as an entrepreneur in the online environment or work in a large organisation.

Springboard+
Springboard+ is co-funded by the Government of Ireland and the European Social Fund as part of the ESF programme for employability, inclusion and learning 2014-2020.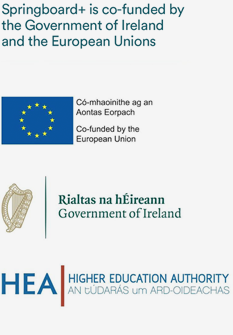 What is it?
An entrepreneur is someone who transforms an idea for an enterprise or a business into economic goods or trade. This course hones entrepreneurial competencies and can increase your chances of success in this very competitive environment. It will teach you the digital tools which can enable businesses to improve their online offering and capabilities. Students work on a business concept, interrogate its business model, and test its validity in the marketplace.
What will I do?
Students work on real business scenarios, and develop and execute a customised online and web marketing strategy. It combines best digital practices with business model validation, enterprise development and research. The research project module focuses on emerging digital technology issues with a focus on international issues.
Future careers
Graduates can originate, validate and test a business idea; write an investment-ready business plan; and critically engage with emerging digital technology trends and developments. It opens up opportunities in management, marketing, digital marketing, digital strategy, start up, and e-commerce.
What will I study?
Digital Design for Business
Digital Innovation + Entrepreneurship
Digital Marketing
SEO + Data Analytics
Business Management
Who can Apply?
This course is free for eligible job-seekers and offered at a significantly subsidised rate for those in employment via the Higher Education Authority Springboard+ initiative.
Springboard+ is open to eligible job-seekers, home-makers and individuals in employment.
Related Galleries