DL918-Postgraduate Diploma in Business Equality, Diversity
+ Inclusion
This Postgraduate Diploma in Business in Equality, Diversity and Inclusion (Level 9 - 60 credits) is a Part-Time one–of–a–kind programme specifically dedicated to the subject of effectually managing Equality, Diversity and Inclusion in an organisational context.
Springboard+
Springboard+ is co-funded by the Government of Ireland and the European Social Fund as part of the ESF programme for employability, inclusion and learning 2014-2020.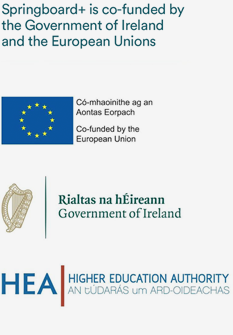 What will I do?
You will develop your core business knowledge, skills and competencies that are geared towards understanding and managing equality, diversity and inclusion issues.
Students will engage with contemporary debates and case studies from a variety of organisational contexts. The programme will test existing opinions and provide opportunity to view EDI related issues in complex business situations from a variety of perspectives. It will combine broad societal issues with business development and sustainability challenges. The programme is 100% project based.
What will I study?
EDI Management Theory & Leadership
Critical Theory and Identity
EDI Origins and Context
Legal Framework and EDI
Strategic HRM and EDI
EDI and Current Affairs
EDI Policy, Implementation and Evaluation
Future careers
Graduates of this program will be in a position to add value to a range of projects in dynamic environments in both the profit and not for profit sectors. Opportunities are opening up in the following:
Public sector organisations who are striving to offer leadership on the EDI agenda.
Not for profits working to promote EDI
SMEs who recognise there is a well-established business case for investing in equality and diversity.
Corporate organisations who promote equality and foster diversity
Graduates of the programme will be positioned with modern and innovative best practice concepts and in this way can provide a sustainable advantage to their organisations and employers.
Related Galleries