BSc [Hons] Creative Media Technologies
Audio | Video | Electronics | Computing

Creative Media Technologies is a practical, hands on course for those interested in technology and how it is applied to a number media platforms.

Students study programming, electronics, audio and video technologies and have the opportunity to apply this knowledge in a range of practical environments. These range from the electronics labs of IADT to the studio environment of the National Film School. Students learn by doing; they invent, create and explore emergent technologies from 3D printers and digital fabrication to the Internet of Things.

We are looking for makers and builders, creators and thinkers, people with the imagination to explore technology and design our future environment.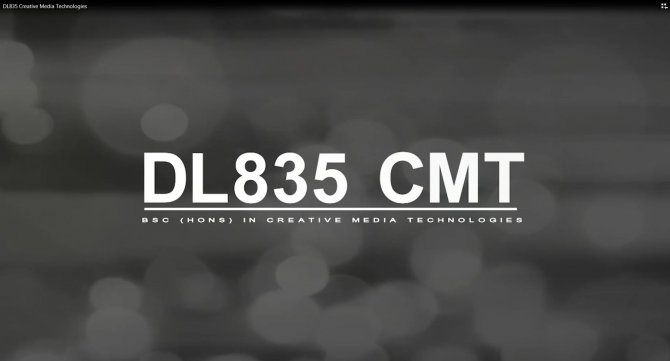 What will I do?
You will have the opportunity to work with a range of technologies; hardware and software, video and broadcast technologies, visual technologies and audio technologies. You will have the opportunity to specialise according to your interests and utilise our facilities including computing and electronics labs, radio and state of the art television studios. Modules on mathematics, networking and signal processing will give you the tools to realise your creative ambitions.
What will I be able to do when I graduate?
Recent graduates of this programme have the following job titles:
Audio Visual Technician | Sound Engineer | IT Analyst | Software Developer | Electronic Technician | Controls Engineer | Production Co-Ordinator |
Recent graduates are employed by AvCom, Digicom, Pearl AV, RTÉ, Setanta, Bausch & Lomb, Quaestor Analytic, Vodafone, Intel and Bank of America.
Our graduates also on go to start their own companies.
What modules will I study?
Year 1
Introduction to the field of Creative Media Technologies. Building and Making, Electrical Principles, Computing, Audio and Music Fundamentals, Digital Media Production, Mathematics for AV Applications.
Year 2
AV Practice, Electronics, Networks, Sound Recording, AV Production, Advanced Mathematics for AV Applications.
Year 3
Work Practice / Project, Electronics and Microcontrollers, Design & Prototyping, Software Design, Studio Technology and Practice, and Research and Innovation.
Year 4
Final Project, Business Strategy and Analytics, and Advanced AV Systems Design. Two electives from: Physical Interactions, Computer Music + Creative Coding, Broadcast Technology, Audio Synthesis, Web Design and Development.
Related Galleries