BA [Hons] Interaction + User Experience Design
Learn how to combine your imagination and creativity with valuable design skills in order to make beautiful, easy-to-use products, services and spaces where people can explore, interact and play with information, media and technology.
"I believe there is a very strong demand within my company for graduates from the BA (Hons) in Interaction & User Experience Design" Donal O Mahony, Director of UX & Product Design, Verizon Connect
Interaction + User Experience Design (IUXD) focuses on designing the things we interact with and the spaces/places or contexts in which we do so. Every day, we use many objects and services (real and virtual) for a variety of purposes – to find out the weather, check train times, talk/play with friends, select a movie, order food, buy a book, etc. All of these experiences involve interactive visual design and digital technology, and how well they are designed affects the quality of our experience with them. This course focuses on human-centred inclusive and universal design ensuring we benefit from good user experiences.
What will I do?
Learn to develop critical thinking and creative problem solving skills through a series of lectures, workshops, exercises and studio projects.
Use practical methods for design and user research, idea generation and visualisation including drawing, illustration, typography, graphics, animation, video and 3D.
Explore how to create interactive prototypes of your projects using a range of digital tools and physical methods.
Design a wide range of human-centred experiences that may include: apps, games, exhibitions, installations, websites, etc.
Work individually and in groups learning crucial project management and teamwork skills
Future careers
Interaction and User Experience (UX) designers are in high demand. There are lots of job opportunities in technology, communications+media, finance, health, food, education, government, etc. Typically you will work in interdisciplinary teams that may include design, marketing, engineering and product development. Job roles include: UX / UI / Interaction / Service / Visual / Product / Game / Web / App Designers; UX Researchers; Product Developer and UX/ Business Analyst. To find out more, try a simple search for 'UX design' on Linked In Jobs.
What will I study?
Year 1 – Design Thinking + Visual Basics | User Research + User Experience (UX) | Interaction Design Principles | Physical Information Environments | Psychology of Design, UX & Gamification | History of Interaction Design
Year 2 – Information Design & Data Visualisation | Universal Design | Service Design | Design for Virtual Experiences (Virtual + Augmented Reality) | Design & Society (current & future) | Sustainable Design & Design Ethics | Elective module
Year 3 – Usability + UX Testing | Emotional Design | Storytelling for Product Design | Critical Research Methods & Philosophies of Practice | Business + Entrepreneurship for Creative Practice | Professional Placement Module | Dissertation Research & Proposal
Year 4 – Speculative Design: Emerging Technologies, Environmental Impact + Ethics | Major Research Project | Dissertation | Presentation + Exhibition
Advice on Portfolio
You can find detailed information about what to put in your portfolio in our Portfolio Guidelines.
OR
If you do not have a portfolio of work that you feel strongly about due to exam pressures or you have been out of education for a while, etc., you can be assessed on your performance on the Practical Project Day without the need to submit a portfolio for that course. Once you have applied for the course via the CAO before 1st February, our Admissions team will contact you via email regarding the Practical Project Days.
Awards & Achievements
This a new undergraduate programme at IADT, but it follows from years of experience providing postgraduate programmes in UXD, including our Masters in User Experience Design (MSc) which won the Higher Education Authority (HEA) GradIreland Awards for Best Postgraduate Programme in Design & Innovation 2017 and a nomination for Best New Post Postgraduate Programme 2018 for our Postgraduate Diploma in UXD. IADT is a multiple award-winning college across the creative and cultural sectors with graduate success that includes Oscar nominations and exhibiting at the renowned Venice Biennale. IADT is the only Institute of Technology dedicated to interdisciplinary higher education in Art, Design and Technology.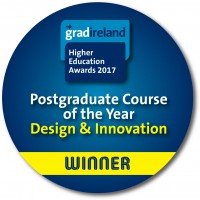 Related Galleries