Boulder Media + IADT Graduate Programme
We are delighted to announce a new Animation Graduate Programme between Boulder Media + IADT which launched in September 2018.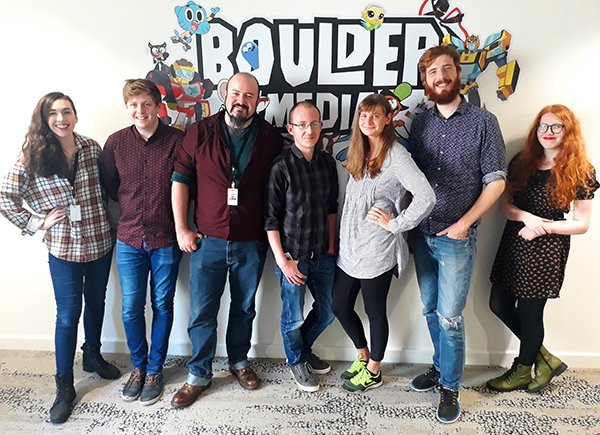 Boulder Media is an Irish animation company based in Dublin. The company was established in 2000 and since then has grown to become one of Ireland's largest animation studios. Boulder has been successful in attracting high profile projects from across the globe and has worked with leading broadcasters such as Nickelodeon, Cartoon Network, BBC, Disney UK and US. In 2016 the studio was acquired by Hasbro Inc., and is currently working on Transformers, Rescue Bots Academy, My Little Pony along with continuing to work with BBC on Dangermouse.
In its inaugural year the Graduate Programme has six IADT graduate participants. They are working across different departments in the following roles: - Animator, FX Artist, BG & Compositor. All are based in Boulder Media's Sandymount studio. The Graduate Programme also includes four masterclasses from in house subject matter experts at Boulder Media and six personal development modules that include: Working in a Studio Environment, Email Etiquette and Presentation Skills.
The Graduate Programme provides an assigned 'buddy' to each graduate to support them with day to day questions. Across the six months programme the graduates will spend three months on two different shows. This will provide valuable experience and understanding of the challenges involved in moving between shows.
The IADT graduates on this year's programme are:
Eamonn O'Neill - Animator
Emily O Callaghan - Animator
Anna Golovko - FX Artist
Mark O Reilly - Compositor
Niall C Clarke - Production BG
Eva Jeffreys - Production BG
Rónán Ó Muirthile, Head of Department of Film & Media, IADT said "Boulder Media's graduate programme for students of the National Film school is an extension of the generous support Rob Cullen and his team already provide to our Animation programme. For the past couple of years they have provided master classes that have added real value to the student experience. It is recognition of the quality of our graduates and their ongoing influence on the industry as a whole."
Robert Cullen, Creative Director at Boulder Media confirms "Boulder Media has continued to strengthen our relationship with IADT. Each and every year we're blown away by the quality of the graduates, not only in terms of talent but also their fantastic attitude. We've been fortunate to have been able to hire quite a number of IADT graduates over the years and give them their first experience in the industry, an industry that continues to grow. Therefore we're delighted to announce the Boulder Animation Graduate Program with IADT. We feel it's a chance to recognize the quality of the IADT students and for us to nurture the talent that is so important for the future of the animation industry in Ireland"
News