Digital Skills Week 2017
All Aboard 2017 is a week-long series of national and regional public events designed to build confidence in Ireland's digital skills for learning.



IADT is delighted to announce a programme of events being run as part of AllAboard 2017 – see table below for list of the activities.



For further information please contact Dr. Therese Moylan – therese.moylan@iadt.ie.
Digital Skills Week
3rd - 7th April
Monday 3rd April
Time
Assistive Technology in Action
9.30am - 11am
Tech for Seniors
4pm - 6pm
Doing it all online
5pm - 7pm
Tuesday 4th April
Time
Adobe Connect
9.30am - 1pm
Developing a digital presence
for SME's to trade online
6pm - 9pm
Wednesday 5th April
Time
Digital tools and active learning
11.30am, 2pm, 3.30pm 
Digital storytelling to support student Enterprise project work
1.30pm - 3.30pm 
Digital Project Case Studies
6pm
Thursday 6th April
Time
Using Google Docs to support educators
9.30am - 1pm + 2pm - 5pm 
Scratch for primary schools
11am - 2pm
Mind your Media
1pm - 3pm
Friday 7th April
Time
Mind your Media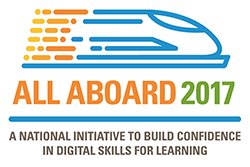 Event