Enactus Ireland National Competition 2017
A Showcase of Innovation at Third Level



Young, inspiring and determined. These are just a few words used to describe students in the Enactus Ireland programme who have spent the last 12 months creating and implementing their social projects to make a real change in their communities.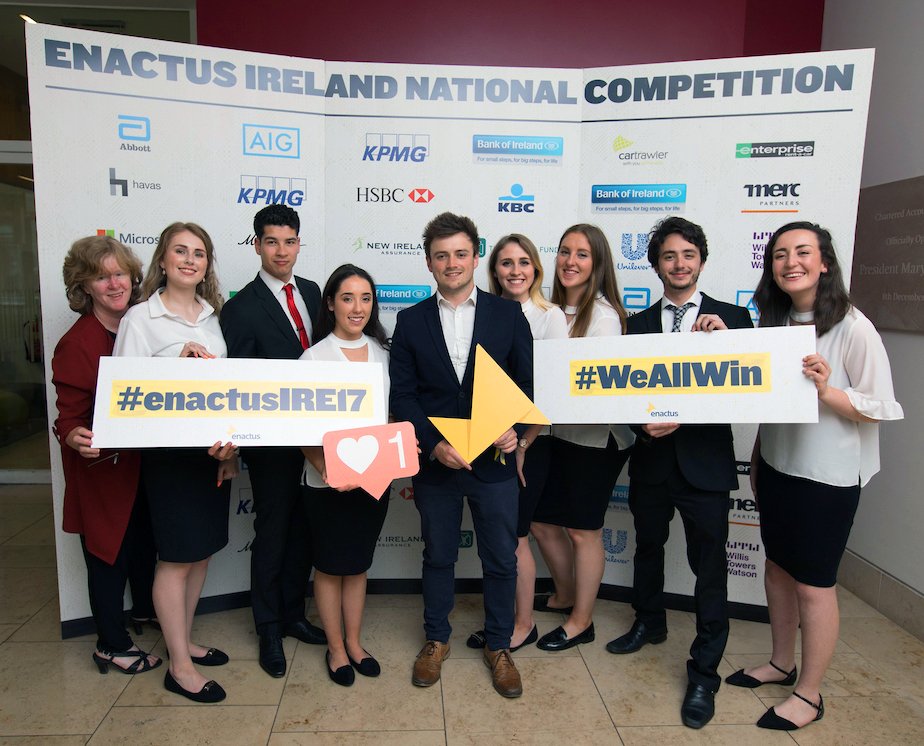 On May 31st, the Chartered Accountants House hosted the annual Enactus Ireland National Competition, which saw a showcase and a celebration of the positive impact and innovation our students are having at third level.
Teams in 10 Higher Education Institutions across the country were joined by business leaders, academics and alumni for a world-class show of excellence in social entrepreneurial action. Their projects, with a focus on civic engagement, support and empower people from all walks of life, including individuals who have communication impairments, ex-prisoners and young TY students.
This year, Enactus IADT presented two innovative projects. Mind Your Media is a workshopped based program that teaches youths about the potential impact of their digital footprint and how to protect themselves online. So far, the team have delivered this workshop to 56 students with plans to expand. While their second project, Nyuki Hive aims to introduce innovative beekeeping techniques to apiaries in Ireland to help reduce honey production time, reduce costs and improve their bee's welfare while addressing the global epidemic of colony collapse disorder. With the long-term mission to work with their partner's, Self Help Africa, to empower disadvantaged women in Uganda with the resources to run their own apiaries.
Terence O'Rourke, Chairperson of Enactus Ireland, said: "All the student teams involved this year have shown tremendous understanding of how their entrepreneurial skills and talents can be used to bring about real change in their communities. Each team's passion, determination and desire to transform lives is inspirational."
Enactus Ireland is sponsored by KPMG, Bank of Ireland, Abbott, AIG, CarTrawler, Enterprise Rent-a-Car, KBC Bank, Merc Partners, Musgrave Group, New Ireland Assurance, The Ireland Funds, Unilever, Willis Towers Watson, Havas, HSBC and Microsoft.
Enactus Ireland is supported by Chartered Accountants House, Opel Ireland and The Irish Times.
For more information on Enactus, visit http://enactusireland.org
News