IADT's Emi Daly Grand Prix Winner of the IDI Graduate Awards Showcased at ReJOYce Exhibition
Celebrating 50 years of the Institute of Designers in Ireland [IDI], ReJOYce, an exhibition of 50 years of Irish Design, is currently taking place at Central Plaza, Dublin.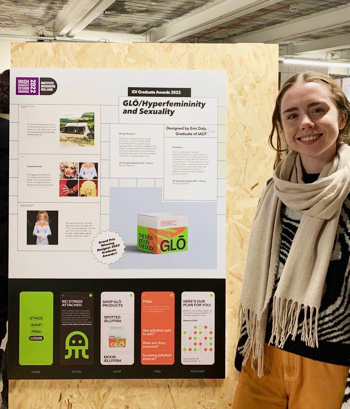 As part of the ReJOYce exhibition, IADT Visual Communication Design graduate Emi Daly, the Grand Prix Winner of the prestigious 2022 IDI Graduate Awards, showcases her winning entry alongside the breadth of award-winning design across all aspects of commercial design, including product design, architecture, fashion over the last fifty years.
On showcasing her work at the exhibition, Emi noted that "It was a real honour to have her work recognised and displayed by the IDI, especially as she moves out into the design world".

Commenting on her experience of the IDI Graduate Awards, Emi felt that  "it was brilliant to see my peers from IADT bring home wins and commendations across the board, every one of them was so well deserved!".
The ReJOYce exhibition is free and runs until December 2nd at Central Plaza, Dublin.
News