New programme awards €650,000 in project funding to Technological Universities
Local water quality, sustainable food production, and the implications of AI for academic integrity are among projects being awarded funding under a new learning and teaching initiative for Technological Universities titled 'N-TUTORR – Transforming Learning', it was announced today.
The 'Students as Partners in Innovation and Change' funding grants have been awarded to 131 projects across Ireland's seven Technological Universities and have a total value of more than €650,000.
Funded by the European Union—NextGenerationEU, N-TUTORR is coordinated through the Technological Higher Education Association (THEA), with support from the Higher Education Authority (HEA).
The projects involve collaboration between learners and staff, and focus on enhancing the experience of students at Technological Universities.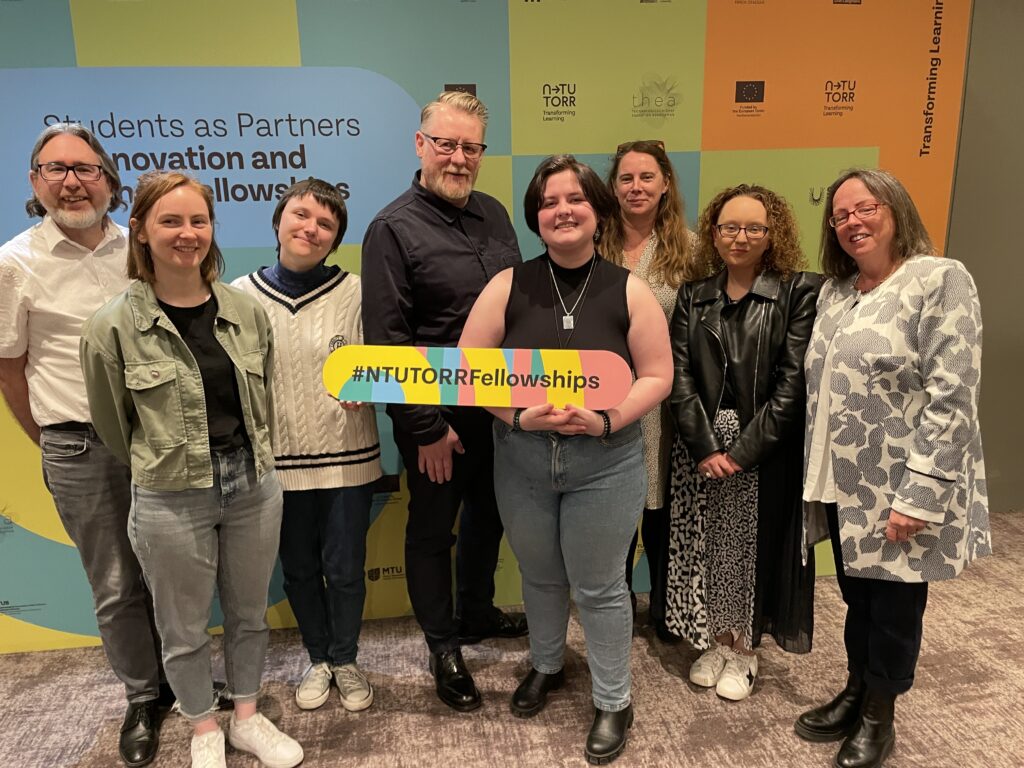 The funded projects, which are to receive up to €5,000 each in support and which are informed by the UN Sustainable Development Goals, include:
'Researching and developing an ecological-friendly print studio', Institute of Art, Design + Technology, Dún Laoghaire (IADT):
This project will explore ecological, non-toxic printmaking and the setting up of an ecologically-friendly print studio, with improved accessibility.
---
'The Hurling Cú | An Cú Iomána (a universally designed performance of the skills of hurling set to Celtic music)', Munster Technological University (MTU):
This project will see its team develop digital assets to celebrate the "Intangible Cultural Heritage" status awarded by UNESCO to hurling in 2018. Featuring nods to both Cú Chulainn and warrior-queen Medb, signifying gender equality, the project aligns with an equality, diversity and inclusion theme.
---
'University Greenhouse', Atlantic Technological University (ATU):
For this project, the team plans to build a university greenhouse to enable students to grow and harvest fresh produce. The ATU Green Campus society will play an active role in promoting the use of the greenhouse. With experienced students and staff, non-experienced growers can gain first-hand experience when it comes to growing and managing food production.
---
'Improving the Water Quality & Enhancing the Environmental & Amenity Value of Local Urban Streams', Technological University (TU) Dublin:
This project aims to improve the water quality and enhance the environmental and amenity value of local streams on or near the TU Dublin Tallaght campus. A citizen science project will examine levels of pollution; a cleaning-up project involving local community groups will remove litter from the streams and plant orchids; and a more scientifically advanced research project by final-year Pharmaceutical Science students on water contamination will test the water for specific metals and organic contaminants.  The project aligns with the Tallaght Village Tidy Towns project and the TU Dublin Green Campus application for Green Flag status.
---
'TikTok for the Sustainable Development Goals (SDGs)', Dundalk Institute of Technology (DkIT):
In this project, students from different disciplines will work collaboratively with staff to communicate the Sustainable Development Goals to both their peers and their wider communities by using the short video platform TikTok.
---
'Promoting academic integrity in the context of disruptive technologies', Technological University of the Shannon: Midlands Midwest (TUS):
This project will explore the impact on, and potential of, Chat GPT as a tool for learning and teaching in undergraduate psychology.
---
'Green Microcapsule Development', South East Technological University (SETU):
This project aims to develop a sustainable, eco-friendly alternative to microplastic beads, as a response to the recent ban on the use of microplastic in personal care products, due to concerns about its impact on marine life and the food chain.
---
Announcing the N-TUTORR funded projects, Minister for Further and Higher Education, Research, Innovation and Science, Simon Harris, TD, said:

"I am delighted to announce the exciting enhancement projects receiving funding today as part of the new N-TUTORR project. This is an innovative, whole-sector collaboration across the Technological University sector that aims to transform the student experience. Collaboration between students and teachers, in co-creating projects to support innovation and enable student success, will enrich the teaching and learning experience, as well as contributing to Ireland's progress on the Sustainable Development Goals."

"Learning positively impacts our society, economy and the environment. The N-TUTORR programme is a significant development of new ways to learn and teach, so that teachers and students are equipped with relevant skills for the future. It is one of many initiatives helping to shape the Technological University sector for the next generation."
IADT President, Mr David Smith acknowledged the importance of this initiative and said:

"The N-TUTORR fellowship programme is a timely and welcome opportunity for students to actively participate in driving innovation and change within their own institutions and across the Technological Higher Education sector. As partners, our students will collaborate with staff on a range of projects that will enhance Teaching & Learning and improve their overall student experience. The Fellowships awarded to IADT today are one of many ways that N-TUTORR will support IADT and our peer institutions as we seek to address the key issues and challenges across Higher Education, including equality, access, digital literacy, community empowerment and climate action. I look forward to seeing the outcome of each of the fellowships as they progress and evolve over the coming months."
Commenting on the new N-TUTORR programme, national coordinator for N-TUTORR, Dr. Sharon Flynn, said: "The N-TUTORR initiative has been developed to transform the learner experience in the Technological University sector through technology and staff / student collaboration.

"Crucially, it is informed by the UN's Sustainable Development Goals, so the projects receiving funding today will not only enhance their own institutions, but also contribute to and reflect positive changes in wider society. They address issues such as water quality, sustainable food production, and the implications of AI for academic integrity."

"Collaboration is at the essence of the N-TUTORR programme because we believe that working together leads to more impactful and lasting change. The programme itself is intrinsically collaborative as it relies on the participation of our seven partner institutes. By having staff and students work together, the N-TUTORR programme not only enhances the teaching methods of a particular institute, but also increases the employability of graduates and their ability to adapt in a digital world."
---
For more information about the 'N-TUTORR — Transforming Learning' initiative, go to www.thea.ie/TransformingLearning

News