The Dock announce IADT Graduate Award Winner 2020 Ciara Mc Goldrick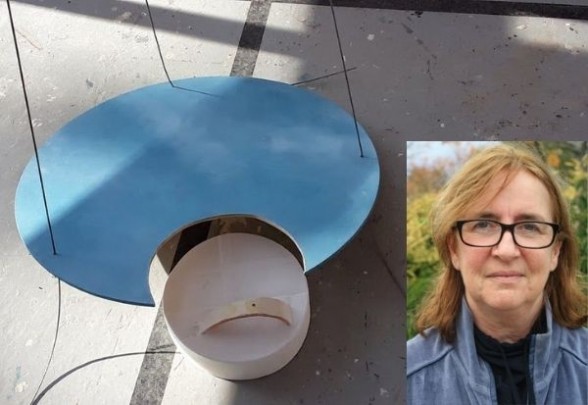 The Dock is delighted to be entering the second year of a three year partnership with the Institute of Art, Design + Technology, Dún Laoghaire BA [Hons] Art Programme. Offering a graduating student an opportunity to be included an exhibition and an award of €1000.
The intention of this partnership between The Dock and IADT is to highlight the work of an emerging artist of note and offer them the chance to make connections in the North West of Ireland. Over the last number of years a new generation of artists who have graduated from IADT have been curated by Sarah Searson, Director of The Dock, these have included Anishta Chooramun, Hugh McGettigan and Kian Benson Bailes. Jamie Cross was inaugural award winner in 2019. The Dock delighted to have the privilege of working with some of Ireland's most dynamic artists and to announce that the winner of the 2020 IADT Student Award is Ciara McGoldrick.
Ciara McGoldrick spent the majority of her working life as a partner in the Decorative Arts Centre, which was involved in domestic, commercial and restoration projects in Dublin and abroad. She returned to education and in 2016 was accepted onto the BA (Hons) Art at IADT.
Her practice involves the research of urban space and landscape, exploring issues and concerns that come from these contexts. She makes formal sculptural pieces and drawings to document and to extract points of curiosity. Her process often begins with a walk in and around the city, visiting sites to take snapshots of activities and encounters in her daily routine. The random elements and familiar objects she encounters prompt the selection of her particular materials.  She observes "human movement is directed along routes which have been designed and organised by architects and planners. Research into architecture, infrastructure, what lies above and below ground, and changing environmental conditions inform the work I make"
" Receiving the Dock IADT Student Award is hugely encouraging. I see it as an endorsement of the choices I have made as to the particular lines of enquiry to pursue and it further motivates me to continue to expand my artistic horizons.Learning and refining my creative practice is best resolved, I believe, through a process of learning-by-doing. The award  facilitates me to do this.  I am thrilled to get the award."
Ciara McGoldrick speaking about what the award means to her.
"I am delighted that we have had the opportunity to meet with and make this award to Ciara McGoldrick. 2020 has been a tough year for students in the arts, with many of the usual opportunities offered to them having changed so radically. IADT have created a beautiful online platform for their creative student which is great a resourse. The board and the team here at The Dock send our very best wishes to the graduating student and are delighted to bring this partnership forward in 2021. I am looking forward to working with Ciara in 2021.
Visit Ciara's graduate exhibition On Show here.
The Dock interview with IADT Graduate award winner 2020
News