The Human Library at IADT
Join us at IADT for The Human Library, where real people become books, ready to share their unique stories and experiences with you.
The Human Library is, in the true sense of the word, a library of people. The Human Library Organisation is a registered international not-for-profit with administrative headquarters located in Copenhagen, Denmark.
'Borrow' a Human Book at IADTs Human Library to unjudge your community. Part of the Dún Laoghaire Festival of Inclusion.
The Human Library provides a safe space for people to break down social barriers through open and respectful conversation. We as people unknowingly place judgements on everything and everyone in our lives, yet rarely get to have conversations about them without feeling uncomfortable. Become a Reader today and join us for a day full of curiosity and open-minded conversations.
On the day, you will take part in conversations with one of our Books. All we ask you to do is pre-register and bring along your curiosity and respect.
---
The Human Library at IADT
Tuesday 3rd October 1pm-4.30pm
Each conversation will last approximately 20 minutes. Each Reader is invited to read multiple Books throughout the afternoon.
This event is for 18s and over only.
For more information, please contact Louisa Keogh: louisa.keogh@iadt.ie or Rebecca Roper: rebecca.roper@iadt.ie.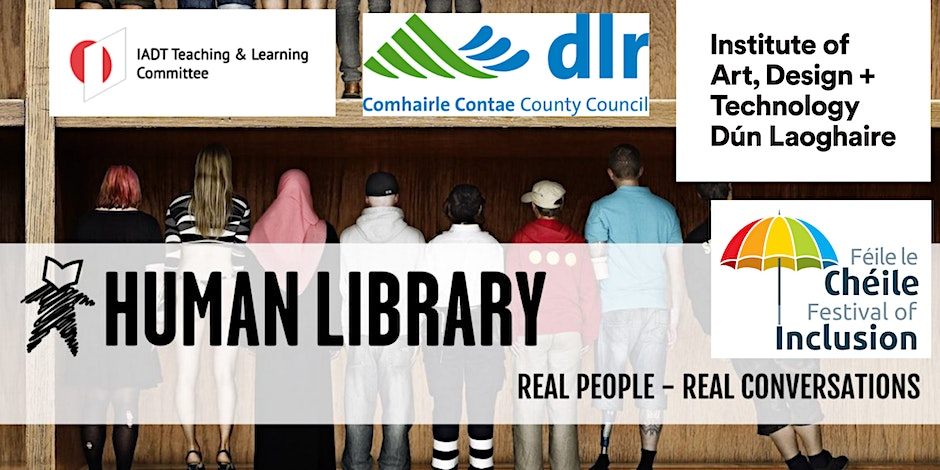 News, Event