Ukraine President Volodymyr Zelenskyy's Address to Third-Level Students
The President of Dublin City University, Professor Daire Keogh, and H.E. Larysa Gerasko, Ukrainian Ambassador to Ireland are pleased to invite you to Ukraine President Volodymyr Zelenskyy's address to third-level students. 
In partnership with the Embassy of Ukraine in Ireland, DCU invites third-level students from across Ireland to a live video address and Q&A.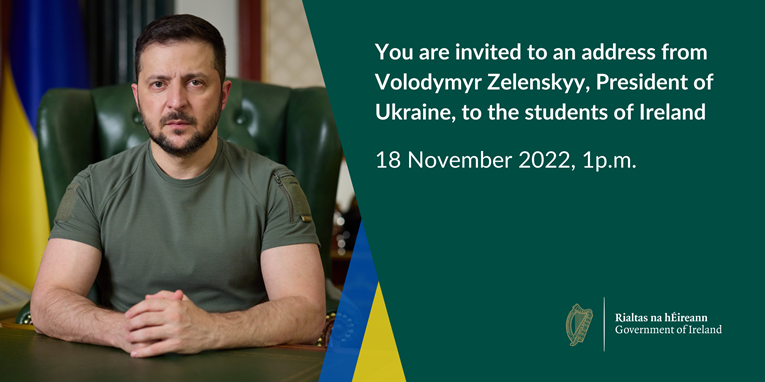 IADT are delighted to broadcast live the address by Ukrainian President Volodymyr Zelenskyy, to all students in Higher Education colleges and universities this Friday, the 18th of November.
Please REGISTER HERE
Time: 12.30pm – 2.00pm GMT
Date:  Friday, 18th November 2022
Venue: A019 Atrium Building
---
In the first instance, we are inviting students and teaching staff from courses that have been instrumental in welcoming Ukrainian students into their classes. Invitations have already been issued to the classes through the faculty, but please feel free to remind all students to register in advance.
We understand that President Zelenskyy, may answer questions during the broadcast, so if you have a question that you would like answered, please include it in the form, and it will be sent to the media team in advance.
This is an opportunity to be part of history in the making, and we encourage you all to register for the event at the above link.
News, Event