Welcome to the Student Learning Centre page. Our staff are here to support all our students whether you are working on campus or working remotely. We can help you with academic and study support, organisation and time management and self-care tips. You can email us at learningdevelopment@iadt.ie and we can arrange a phone call or video chat whichever suits.

Don't forget to check out our Go 2 Guide for Hybrid Learning on Blackboard where you will find a range of resources.

What we do?
We offer workshops and individual sessions throughout the academic year. The aim of our psychology-led service is to empower students with the tools to become independent learners.
The Student Learning Centre also provides specialist support for students with mental health difficulties and neuro-diverse learning profiles including Dyslexia, Dyspraxia, Autism Spectrum Disorder/Aspergers and ADD/ADHD.
Our Approach
We take a holistic, biopsychosocial approach with students recognising that social, emotional and personal issues have a huge impact on students', and that these areas need to be supported in order for students to achieve academic success. Our aim is to teach students to self-monitor, self-regulate and self-manage their difficulties, teaching them ways to set rewards and goals and targets for themselves and giving them the necessary tools to self-manage the learning journey. Some students will be able to do this after a couple of sessions and take the tools with them as they progress through college and beyond, while others may need additional support sessions. We understand no two students are the same and sessions are tailored to the individual student's needs.
If you need to meet with a member of the Student Learning Centre please email for an appointment:   learningdevelopment@iadt.ie
Check out this video about our service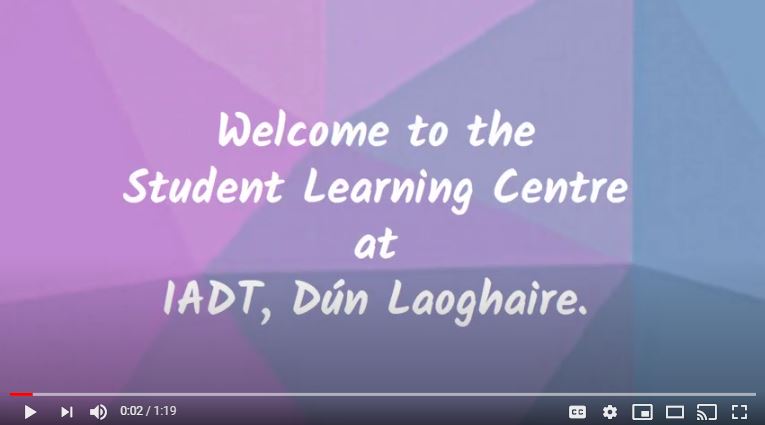 Our Services / Workshops & Talks
Students can avail of seminars, workshops, small groupwork and one-to-one sessions on a range of learning skills, including:
Academic writing;
Research and reading strategies;
Note taking/making;
Time management and organisation skills;
Exam techniques and revision planning.
Email  us to arrange an appointment. We ask that students book appointments in advance of deadlines so that we have adequate time to offer support as needed.
Sessions last approx. 45 minutes per session.
Bring in work samples, the piece of work you will be working on, your assignment brief and any other information that you think might be helpful.
Remember that we are not a proof reading service, so be prepared to work through drafts, possibly over several appointments.
For learning materials and more information on upcoming workshops, please click the tabs on the right.
Contact Us
The Student Learning Centre is based in the Student Experience office in the Carriglea Building (Glass fronted office) 1st right when you come through the main door.
Email: learningdevelopment@iadt.ie