DL908- MSc User Experience Design
User Experience (UX) Design is the process of designing the experience a user has with a product or service, focussing on maximising user satisfaction through user research, usability testing and iterative design.
UX design encompasses all aspects of a user's experience of using a product or service. A UX designer works in an iterative design process that includes researching current user experiences, understanding product and business strategy, designing better user experiences, evaluating user experiences, and communicating the results of their work.
Hear from our lecturers
When I graduate, what will I be able to do?
Explore and understand user goals, needs, behaviours and frustrations using a variety of research techniques
Design user experiences using prototyping tools and applying best practice design principles
Identify user experience problems and investigate the extent of those problems
Work in multi-disciplinary teams, assuming leadership and management, roles as required
Communicate and defend the results of my work, making sound professional recommendations and judgments
What will I be doing?
The programme involves five distinct projects. Each project focusses on different aspects of the UX design process. During the first year of the programme, students complete three UX design projects.
1. The first project focusses on the UX design process, the stages of the process and the iterative nature of the process.
2. The second project delves into user research methods, interaction design principles and usability testing techniques in detail.
3. The third project explores the detailed aspects of user experience design, including human psychology, content design and navigation, visual and inclusive design.
4. The fourth project involves the use of speculative design to explore problems through design and to examine design strategy.
5. The final project is a capstone project that provides an opportunity to develop and showcase the knowledge and skills acquired on the programme.
The first three projects are completed during the first year of the programme; the final two projects are completed in the second year of the programme. Examples of student work are provided further down this page.
What modules will I study?
There are five modules on the programme, one for each of the above projects:
Year One
Fundamentals of UX Design
The UX design process, design thinking, user research, interaction design, usability
testing.
User Research and Interaction Design
Designing user research projects, collecting and analysis user research data, creating
interactive products using best practice design principles.
Psychology, Information Architecture and Visual Design
Exploring human psychology, content design and navigation, visual and inclusive design
Year Two
UX Design Strategy and Futures
Improving design skills by exploring problems through speculative design, understanding design strategy
Major Research Project
Carrying out a capstone project that involves a significant amount of user and design research, iterative design, usability testing; and finally presenting the results of the project
How will I be assessed?
Each module is assessed using project-based continuous assessment. This involves providing formative feedback during each module before a final summative assessment. There are no exams on the programme.
Future careers
Graduates with existing UX design experience have moved into more senior roles, including leadership and management roles. Graduates starting out on their UX design careers have been successful in applying for roles as user researcher and UX designers.
What modules will I study?
Fundamentals of UX Design
User Research and Interaction Design
Psychology, Usability and Visual Design
UX Design Strategy and Futures
Research Project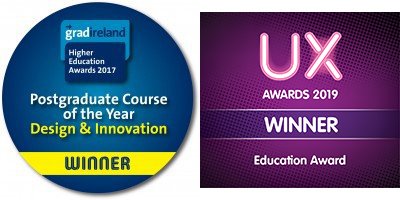 Related Galleries