DL908- MSc User Experience Design
User Experience (UX) Design is a process of designing digital products that focuses on maximising user satisfaction through user research, usability testing and iterative design.
User satisfaction with a product primarily, but not exclusively, depends on their interaction with that product. Therefore, interaction design is an important aspect of UX design. However, UX design considers other aspects of a user's experience, such as factors that influence whether or not to use the product in the first instance, or the kind of external product support provided.
Hear from our lecturers
What will I be doing?
This MSc explores the theory and practice of user experience design through a series of lectures, seminars, exercises and real-world projects. The lectures and seminars present the underlying principles of qualitative and quantitative research methods, interaction design and prototyping, usability testing, critical thinking, problem solving, and design thinking. The exercises and projects provide students with an opportunity to develop their skills and competencies in relation to these topics.
During the first year of the course, students complete three projects, each of increasing complexity and difficulty. These projects examine such themes as universal design, responsive and adaptive design, designing for the Internet of Things. In addition, students complete a number of assignments to broaden and deepen their knowledge, and develop their critical thinking, analytical and communication skills. During the second year of the course, students explore a range of emerging topics, for example designing applications for wearable devices and the Internet of Things. In addition, students complete a research project on an appropriate topic of their own choice. Students work both independently and in multi-disciplinary teams, assuming leadership roles as required. They also present and defend the results of their work, and critique the work of others.
Future careers
Graduates of the course will be able to work in senior roles in the field of UX Design. These roles will cover a wide range of areas including user research, user interface and user experience design, usability testing, UX strategy and project management. Graduates will be able to use a wide range of tools, including user research tools, prototyping tools and usability testing tools.
What modules will I study?
Fundamentals of UX Design
User Research and Interaction Design
Psychology, Usability and Visual Design
UX Design Strategy and Futures
Research Project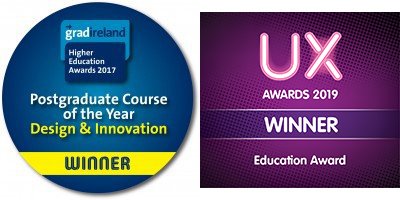 Related Galleries