Creative Computing Internship Programme
IADT's BSc (Hons) in Creative Computing programme is delighted to have eight Year 3 students who are taking part in an internship programme.
The students are getting hands-on experience as they work for 15 weeks for a company in the computing industry.
Last year was the first year of the internship programme and it proved to be a great success with students learning key skills that should enable to pursue careers in computing.
---
Work Placement Profile: Tariq Horan
Tariq Horan, Year 3 Creative Computing, talks about his internship programme experience working as a software developer with Capella Workplace Solutions.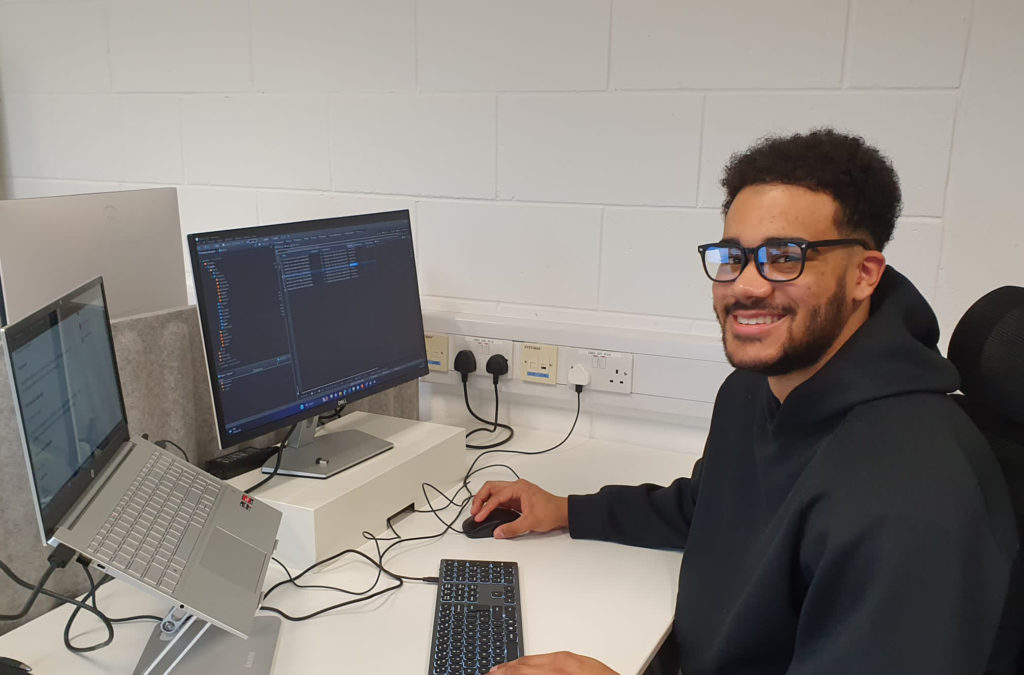 Tell us a little about your life as a student at IADT and the course you are studying?
Being a student at IADT is great. I am studying Creative Computing and I thoroughly enjoy the course. For me the transition from school to college was made simple thanks to the lecturers and staff in the college, there was a lot going on with COVID but they made it as comfortable as possible to ease us in to our first year.
The course itself is really interesting, it's a lot of practical work I can't think of a time where we sat in a class and just listened to a lecture without putting what we learned to practice. There are also no exams at the end of the year and our modules have a lot of continuous assessments which I like.
How are you finding life on the campus now we have fully re-opened after Covid?
This is my 3rd year in the college but it is my first year being 100% on campus and it is a lot different to the hybrid split that I experienced in my first two years. There is a nice buzz around the college it is nice to see my classmates in person rather than on teams.
You are currently working with Capella Workplace Solutions as part of your course work placement – how are you finding it?
I am really enjoying it. I am a little over four weeks in and I am loving every minute of it. I am working as a junior software developer and every day I am learning something new. I am currently working on my second project alongside the head developer Carlos. It's exciting building new things for the company that will help in the future. Everyone is really friendly and always willing to help whenever I have a question.
Did you ever think of becoming an entrepreneur? What do you hope to do when you graduate?
To be honest no, I currently have no ambition to be an entrepreneur but that's not to say that I won't be in the future. Being in the Media Cube is very inspiring – there's a lot of startups…also talking regularly to Criona Turley (the Capella CEO). Becoming an entrepreneur is something that I will give more thought to and consider more in the future. When I graduate, I hope to work straight away, I am eager to get real experience in the field so fingers crossed I am able to find somewhere to work.
What are the challenges you see ahead in the workplace, particularly for young employees?
A major challenge in the workplace is hybrid working, I think people just expect to work from home which is fine but it's how the companies adapt to it. A challenge for young people will be finding work straight out of college, like I said earlier I am looking to work straight away but from the stories I have heard from past students and lecturers it seems like some companies are looking for a lot of experience which is unrealistic for students straight out of college so hopefully that isn't an issue and companies invest more time in training their staff.
What do you think the workforce/businesses need to do in order to attract the best talent?
Advertise and make it known that they are good to work for. I think that if people know they will be respected in the workplace they will have no problem working there.
News