Fernhill Park Experience Launch at Marlay Park House
Fernhill Park Experience is an interactive, educational, augmented reality (AR) game that has been developed in partnership with Dún Laoghaire Institute of Art, Design and Technology (IADT) and Dún Laoghaire-Rathdown County Council (DLRCC).
The Fernhill Park Experience project has been funded by the Science Foundation of Ireland (SFI). The AR application is based on Fernhill Park and Gardens and engages participants in learning about the park's ecology and understanding how changes to land use can shape and influence the future of the park.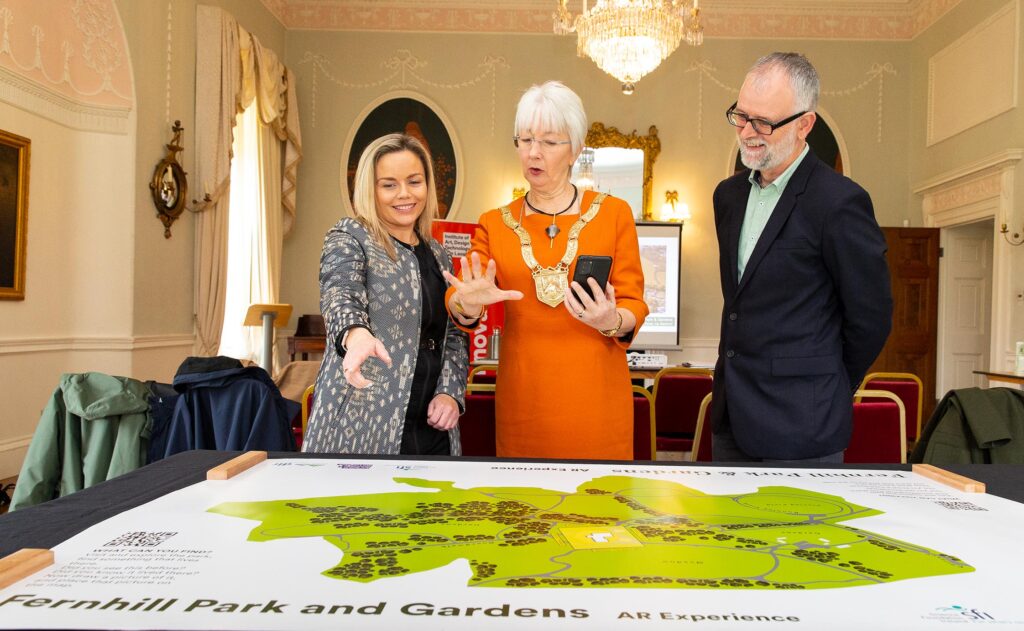 L-R: Emma Leahy, Vice President of Research, Deveopment and Innovation at IADT, An Cathaoirleach, Mary Hanafin, Ronan Herron, Digital Strategy Officer DLRCC. Image by ©Peter Cavanagh Photography
---
The game is activated as players scan a physical 2D map of Fernhill that has been designed to pair with AR app. A complementary physical scaled model of the park has been created by Clyde Doyle (IADT) and 3rd year students from 3D Design, Modelmaking and Digital Art (IADT) using locally sourced, sustainable materials.
April 12th marked the launch of the Fernhill Park Experience at Marlay Park House. The AR game has been developed in collaboration with IADT's Public Design Lab, DLRCC and Dublin Design company Noho. Emma Leahy (IADT) and Clyde Doyle co-led the project in partnership with Ruaírí O'Dúlaing, Ronan Herron, Des Houlihan and Keith Cotter (DLRCC). We would like to thank An Cathaoirleach, Mary Hanafin, IADT's President, David Smith and all our guests from SFI and DLRCC for their attendance on the day.
"By working together, IADT and DLR have developed a tool that provides participants with knowledge of the natural landscape of Fernhill Park and through the augmented reality experience the participants can discover what the future of sustainable parks might look like." Emma Leahy, Vice President of Research, Deveopment and Innovation at IADT
Players can make real-time changes to the park based around the topics of rewilding, reforestation and renewable energy and will engage in decision-making based on what they learn. The AR experience aims to encourage engagement with the topic's ecology and resource use, to help engender environmentally, future aware citizens.
The project also aims to spark curiosity and engagement in STEM (science, technology, engineering, mathematics), from groups currently identified as being unengaged with STEM.
"The Fernhill AR Project is a particularly good example of the type of collaborative project undertaken within the dlr Digital Strategy. By working with IADT and industry partners it shows the kind of real-world impact we can have: demonstrating the use of emerging technology for climate awareness; showcasing our fantastic public spaces and reaching out to the wider community through the use of STEM. In addition, the game is a fun, learning experience which will whet the appetite to visit Fernhill Park and Gardens for those who haven't already visited." Ronan Herron, DLRCC, Digital Strategy Officer.
The launch marks the beginning of the next stage of the project where a series of engagements will be carried out across libraries and primary schools in the Dún Laoghaire-Rathdown region.
If you are interested in taking part in any of the upcoming workshops, please send your interest by email to Stephanie.golden@iadt.ie.
Find out more:
Public Design Lab
Project Press Release
---

News