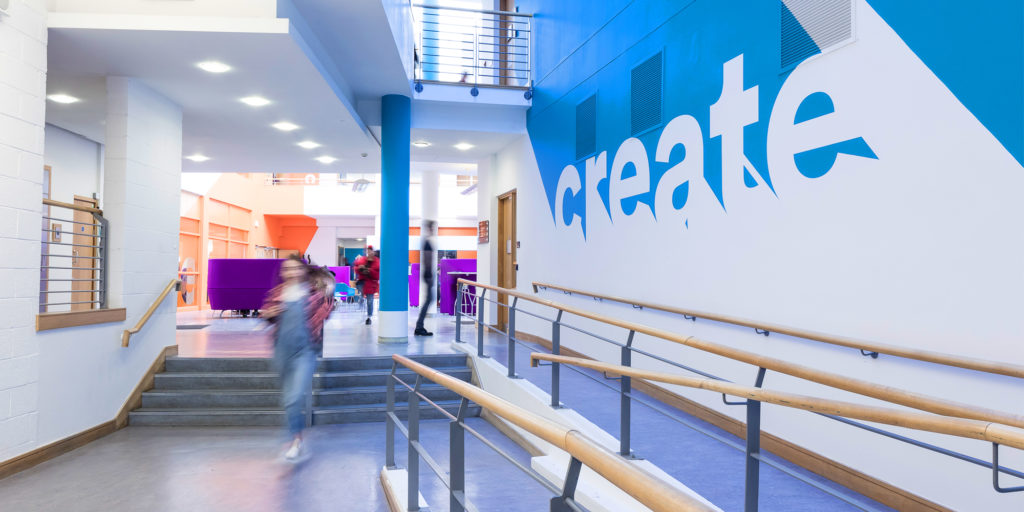 IADT partners on international mobility programmes and academic exchanges globally in 20+ countries in Europe, Canada, USA, Asia and Africa. IADT welcomes students to engage through our Undergraduate courses and Postgraduate courses.
International students are warmly welcomed at IADT. Currently home to over 2500 students and staff, the Dún Laoghaire campus is vibrant and engaging, with outstanding facilities and a warm and energetic atmosphere.
Our research programmes are conducted through the English language.
We engage with education and industry partners globally to develop international opportunities for staff and students. We actively seek out new academic programmes through strategic international education partnerships and relationships. One such relationship is with George Brown College, Toronto (under the Ontario Agreement). IADT and George Brown College partner on the Masters in Interdisciplinary Design Strategies and a Bachelor of Arts in Visual Communications (pathway module).
Contact the International Office at Sonya.hogan@iadt.ie to discuss opportunities.
Postgraduate scholarship opportunities are available:
http://eurireland.ie/programmes/related-international-co-operation/international-scholarship-opportunities/
http://research.ie/funding-category/postgraduate/
http://www.iua.ie/irish-marie-curie-office/introduction/
http://eurireland.ie/programmes/related-international-co-operation/us-ireland-rd-programme/
https://www.campusfrance.org/en
http://heranet.info/
Graduate Stories