Arts Management Students Present 'What Cannot Be Seen' Exhibition
A portrait focused exhibition showcasing the beauty of diversity as seen through the perspectives of different creators
'What Cannot Be Seen' Thursday 24th of March, 6pm-11pm
Exhibiting artists include Olamide Ojegbenro, Fionnuala O'Connell and Okhaide Itua.
The exhibition aims to highlight diverse and unique faces that are not commonly seen in Ireland's visual art scene. While also showcasing the next generation of Irish creative people.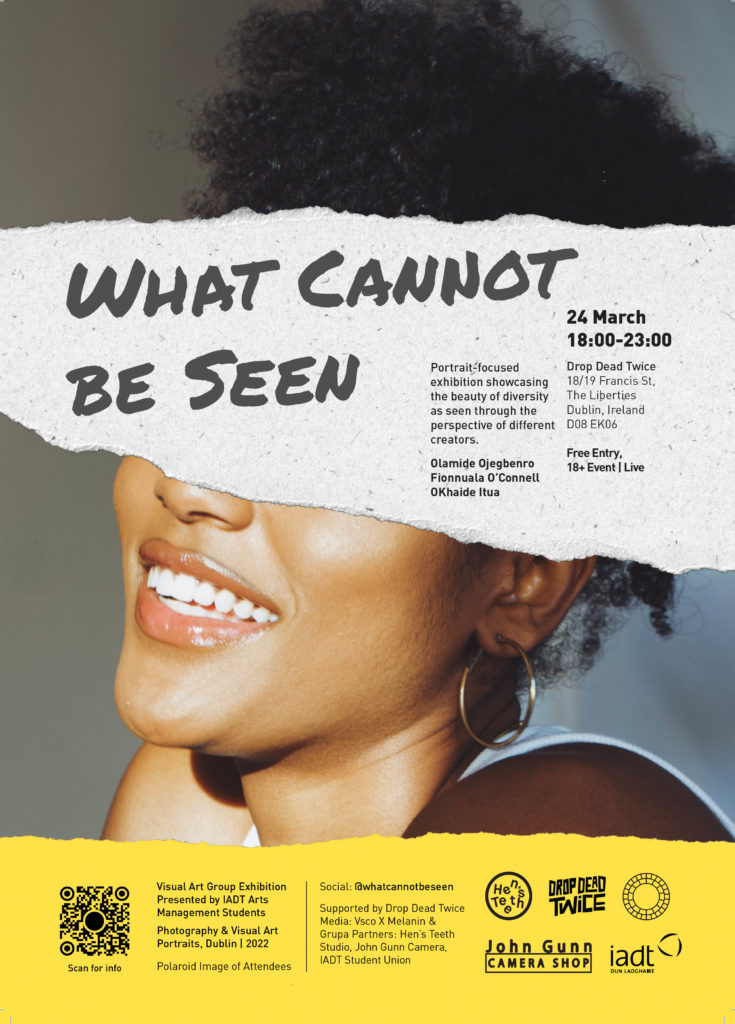 ---
The event will be hosted by IADT Arts Management second year students Diana Moldovean, Zara Brady, Shane O'Leary, Olamide Ojegbenro and Rebecca Murphy.
What Cannot Be Seen offers a unique gallery experience accompanied with music and drinks in the heart of Ireland. The exhibition is an 18+ event and is free of charge, though donations for the artists will be welcome, as well as this, the artists prints will be available to purchase.
What Cannot Be Seen will also be selling "We Are Not Hooligans", hoodies created by artist Olamide Ojegbenro. Throughout the night there will be a photographer onsite capturing the evening with a polaroid camera, photos taken of the evening will be available to view on Whatcannotbeseen_ Instagram.
The evening will commence with each artist presenting a brief statement about their chosen pieces, once hearing from the artists, attendees will be encouraged to walk around and observe the art while enjoying what the bar downstairs has to offer. Some of the pieces you can expect to see at the exhibition include, We Are Not Hooligans, Word on the Street, Young Mindgrant and Our Hair-Our Pride.
Artist and event organiser Olamide Ojegbenro is a portrait photographer, his work can be found on Instagram at directedbylamide.
Fionnuala O'Connell is a portrait painter, "In this series, I use acrylic to explore the conflict of identities, colour and the isolation it brings".  Fionnuala's work can be found on Instagram at fionnuala_oco.
Okhaide Itua is an illustrator, he desribes his work included in this exhibition "Is about Nigerian and African culture and looking at it from a different lens…the true meaning of what I have created with these pieces is that I am taking hold of what I am and I'm keeping it with me". Okhaide's work can be found on Instagram at d_lilith_.
The exhibition takes place on Thursday 24th of March, 6pm-11pm at Drop Dead Twice, 18/19 Francis Street, The Liberties, Dublin, Ireland, D08 EK06
More information about the event can be found on Whatcannotbeseen and whatcannotbeseen on Tiktok.
News, Event