Electric Picnic + IADT present GENERATE
Introducing GENERATE: a new project between IADT and Electric Picnic for 2023.
GENERATE is a new and exclusive opportunity for IADT students to exhibit their work and attend Electric Picnic 2023. We invite students to apply as an individual or group to present an original piece of their work at the festival held in Stradbally, 1-3rd September 2023.
---
GENERATE
This year Electric Picnic want to explore the theme CONNECTION, which can be interpreted how applicants choose.
Applications are open to all students working across both 2D (eg. photo/print) and 3D (eg. sculpture) mediums.
Successful works will be presented in an IADT "gallery" at the festival. Grants of up to a maximum of €200 will be available to successful applicants, to create their proposed work for the festival. Each successful applicant will receive 2 x weekend passes to the festival, which will be issued following the work's installation on site.
This is a competitive process with a limited number of spaces. Applications will be reviewed by a panel constituting both IADT and EP representatives, with a number of selected applicants being invited to interview. Successful applicants will be notified by no later than 8th May 2023 following the interview process. All pieces must be completed and stored at IADT by 30th June.
---
Application details:
Application deadline is Friday 21st April 2023
All applicants will receive notification of whether they will be called to interview by Friday 28th April
Interviews will occur between 2nd– 5th May in IADT or over zoom
Successful applicants will be notified by no later than 8th May 2023
Successful pieces must be complete and stored in IADT by 30th June 2023
Send your completed application form and supporting materials as a PDF by 10am, Friday 21st April 2023 to: ep.arts@festivalrepublic.com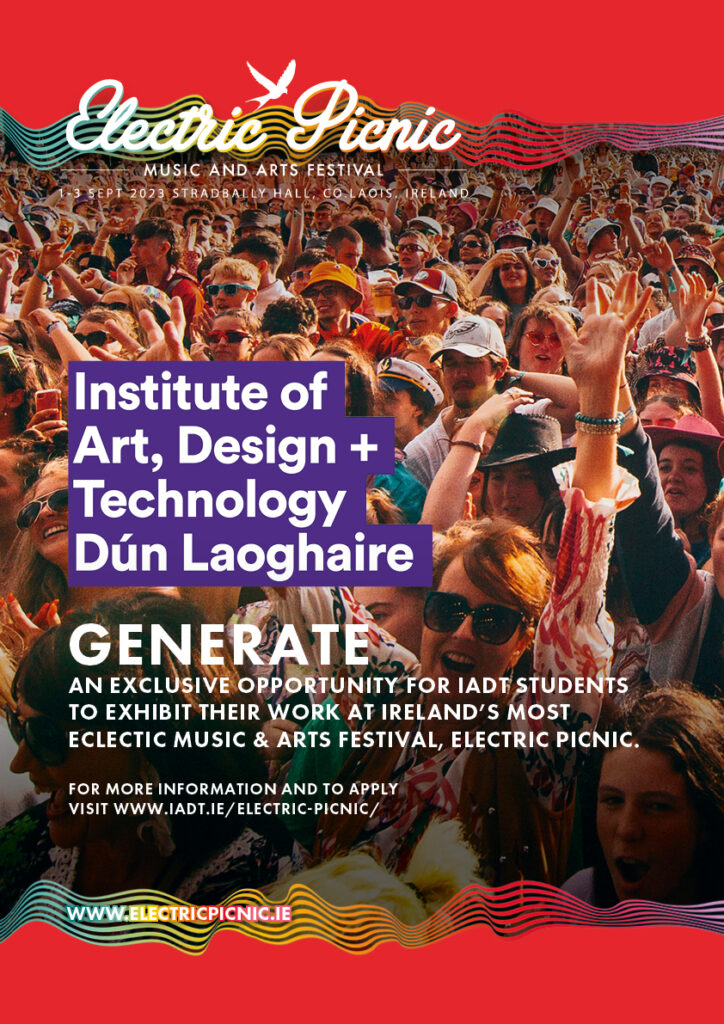 Personal information provided will be collected and used by EP Republic Limited (herein referred to as Electric Picnic) in partnership with Dun Laoghaire Institute of Art Design + Technology (herein referred to as IADT). For more information about how this will be used, please see Electric Picnic's Privacy Policy and IADT's Privacy Policy.

News