The Media Cube is a start-up innovation centre based on the IADT campus. It opened its doors in 2007 with a clear mission to support the growth of digital start-up businesses in the Dún Laoghaire, South Dublin and North Wicklow regions. Over this time, the Media Cube has assisted 400+ start-up entrepreneurs and facilitated the creation of 1000+ jobs to date. The Media Cube works closely with Enterprise Ireland and the Dún Laoghaire-Rathdown Local Enterprise Office and the national LEO network.
The Media Cube seeks to support entrepreneurs who have innovative business ideas that have the potential to develop into strong commercial entities with the capacity to scale internationally. The team at the Media Cube provides a range of services to these select entrepreneurs to enhance their prospects of success.
Media Cube Video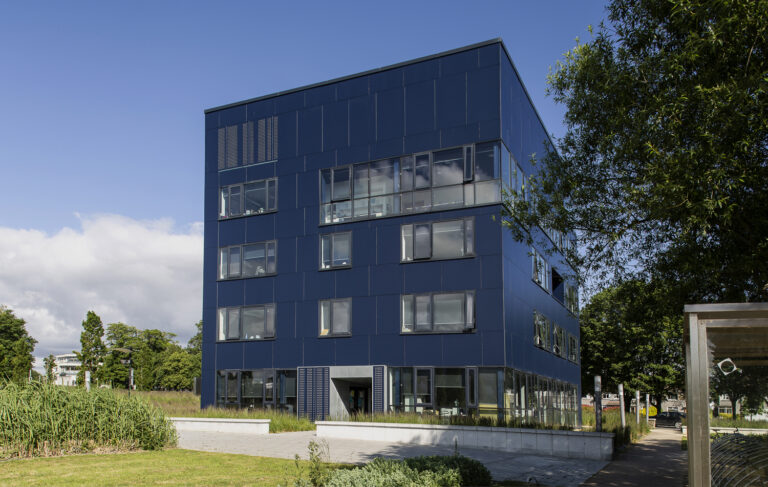 Media Cube Services
---
Start-up Programmes
The Media Cube runs the following start-up programmes to accelerate your start-up journey. They include:
New Frontiers is the national programme designed to develop entrepreneurs, delivered on behalf of Enterprise Ireland. The programme is designed around three phases with the aim of building your confidence and skills to develop your business idea within a supportive and encouraging environment.
The New Frontiers programme consists of practical and interactive workshops, personalised one-to-one mentoring, financial support and co-working space, New Frontiers is a game changer for anyone serious about developing their business idea into a successful start-up.
The Media Cube manages this programme in partnership with NovaUCD. Click here for New Frontiers.
The Student Enterprise Boot Camp is run annually from the end of January to early March. Current and past students of IADT are eligible to apply. The aim of this programme is to provide students & graduates with the tools to properly assess the potential of their business ideas. The Student Enterprise Boot Camp also avails of one to one mentoring support from entrepreneurs carefully matched with each student business. If you are interested in learning more please contact bootcamp@iadt.ie.
The Student Entrepreneurship Accelerator is taking place in June 2023. No matter what your degree is, arts, filmmaking, design or business, this accelerator is for you! It is aimed at getting you to work on a start-up idea from beginning to end. You could come up with a proposal for a gallery or a show, create a TV series or film concept, build a music app, come up with a solution for fast fashion..the possibilities are endless. Through a series of structured workshops, including content from industry workshops, regular pitching sessions and mentoring you will, over a 4 week period, bring your idea from concept to reality.
*You will be paid a student fixed week payment for each week of the programme (approx 2-3 days per week).
*You will be accessing best in class facilitators and industry experts to develop your idea.
*You will have access to incubator space whilst participating in the programme.
*You will exit the programme with a developed idea – who knows this might be your next career move!
The accelerator includes ten ½ day workshops to equip participants with knowledge, skill and understanding to commercialise sustainable and profitable products and/or services that customers will need or want. Topics will include:
Business model canvas
Business proposition and customer development
The customer journey
Marketing & Sales
Finance and funding
Building the team and culture
Pitching for investment
Office Space
The Media Cube has 22 office units and 12 hot-desking spaces. All of our clients have access to our board room, meeting room, audio visual facilities and kitchen. Clients also have access to the IADT canteen and library resources.
Office units are available in varying sizes: 18sq.m, 24sq.m and 28sq.m.
All licensees within the Media Cube receive on-going business mentoring support and are reviewed by a panel of business mentors on a bi-annual basis to ensure they are achieving their agreed milestones.
If you are interested in an office unit please contact mediacubespace@iadt.ie
Media Cube Networks
The Media Cube hosts regular networking events and community meetups to provide entrepreneurs with an opportunity to connect and share their ideas, contacts and challenges. The aim of these networking events and community meetups is to provide a cohesive and safe environment for entrepreneurs to learn from each other and access support, if required.
One of the Media Cube's most popular networking events is the VC in Residence Series run in association with in-house Venture Capital company, Enterprise Equity Venture Capital.  The VC in Residence series, involves a series of short lunch-time sessions with a panel of funding experts who seek to address everything a start-up needs to know about raising funding.
If you are interested in attending our next event please contact mediacubenetworks@iadt.ie.
Media Cube News
For the latest Media Cube News see below.
Click here to subscribe to our newsletter.
Our regular newsletters are an easy way to keep up-to-date with all of the new developments and updates at the Media Cube. With contributions from our team, the newsletters will keep you informed of all our upcoming events and activities so you never miss out.