IADT has a proud history of Mature Students studying at the Institute.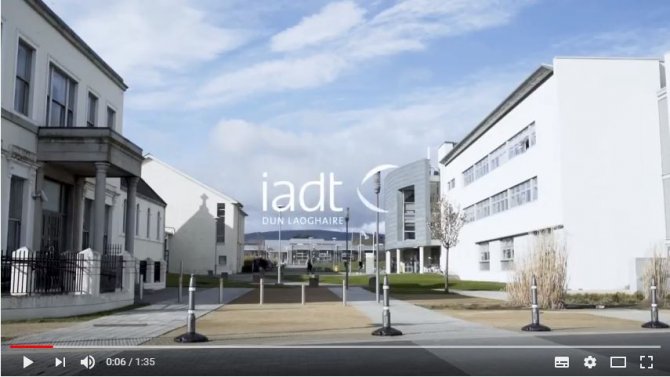 Applying as a Mature Student
Mature Students make up approximately 10% of the Student Body at IADT. To find out more about applying to IADT as a Mature Student please consult our admissions website.
If you are at least 23 years of age on 1 January of the year you want to enter, you can apply on grounds of mature years. To enter in September 2023, you must have been born on or before 1 January 2000.
To apply as a mature student to IADT's Undergraduate Programme please follow these steps:
Research the courses offered by IADT and their requirements for mature applicants
Read the additional information for Mature Applicants – You will find detailed information on the requirements to apply for each degree programme as a mature applicant in the section on CAO.
Apply to the CAO by 1 February – Applications to IADT on the grounds of mature years are made via the Central Applications Office (CAO) by 1 February. Full details of the application process and payment for EU applicants are available on the CAO website. NON-EU Mature student should contact admissions@iadt.ie directly to discuss.
Provide Supporting Documents – As a mature applicant you are seeking to be assessed for entry on more than just your academic qualifications. This means that you will need to provide supplementary information in addition to your completed CAO application form. Information such as a CV, personal statement, certificates of any courses previously taken, or examination results (where necessary) should be sent to the CAO within 7 working days of completing your CAO application and no later than 15 February. You can supply a tailored IADT personal statement separately when posting documents to CAO. If you have completed school leaving examinations, you may also be eligible to compete on points. If you completed the Irish Leaving Certificate in 1986 or later please ensure that you include your examination number in your CAO application. If the exams were taken prior to 1986, or are from another country, you should include an official copy of your results. Mature applicants can be considered on multiple grounds (e.g. mature, QQI-FET, Leaving Certificate) so please ensure you provide all relevant results
Applicants should hold English and Maths at a minimum of Leaving Certificate level
Further information can be found here: – Central Applications Office (cao.ie)
Current Mature Students
Current Mature Students can link in with the Access Office as required for support during their studies at IADT. Students are also invited to attend the Mature Student Society, one of the most active and thriving groups on campus.
Uversity Scholarships for Adult Learners 2023
Applications open: 1 February 2023
Application deadline: 24 March 2023
UNLOCKING POTENTIAL, REALISING AMBITIONS
Learn more about Uversity and apply: click here
Uversity's Scholarships are for adult learners who wish to complete a Bachelor's (Ordinary or Higher) Degree, for the first time, that will help transform their lives and the lives of those around them. Scholarships enable successful candidates to pursue a degree, in any discipline, in selected institutions on the island of Ireland. Preference is given to candidates enrolling on full-time programmes. Part time or blended programmes will also be considered.
The Scholarships comprise financial support and programming throughout the course of the degree. There are two levels of financial support available depending on whether or not the successful candidate has dependent children:
€5,000          no dependent children
€7,000          dependent children
Scholarships are awarded based on online written application, successful interview and on demonstrated financial need.
The scholarship is payable per annum for the duration of the Scholar's chosen degree, up to a maximum of 4 years.
Payments are made directly to the scholar through monthly instalments over the course of their degree. All payments are subject to the Scholar's compliance with Uversity's scholarship agreement, continued registration and progression to the next academic year.
Uversity have been successful in securing Income Disregard status from the Department of Social Protection (DSP) and the Department of Further and Higher Education, Research, Innovation and Science (DFHERIS). Therefore, successful candidates in the Republic of Ireland in receipt of means-tested social welfare benefits and, or SUSI grants can receive a maximum scholarship of €7,000 without impacting these supports.
Successful candidates in Northern Ireland can also receive a maximum scholarship of €7,000 and should seek advice from Student Finance Northern Ireland and, or their local tax credit office to confirm any impact of such a Scholarship.
To be eligible applicants must:
be 23 years and older by 1st January 2022
be a citizen of an EEA member state or Switzerland AND resident in Ireland or Northern Ireland for 3 years or more by 1st January 2022
be returning to higher education in 2022/23 after a break from education of 3 years or more or have recently completed a higher education progression / preparation course
be admitted to a Bachelor's degree or have a deferred offer for the 2023/24 academic year.
be able to demonstrate:
academic potential
a clear motivation and ambition for returning to education
a drive to succeed and a strong work ethic
an ability to be transformed and transform others as a result of this scholarship and educational experience
PLEASE NOTE:
non-EEA citizens resident in Ireland / Northern Ireland must have permanent leave to remain at time of application.
applicants who currently possess or are enrolled on a Bachelor's degree programme ARE NOT ELIGIBLE.
applicants DO NOT need to have an offer at the time of application but if selected for a scholarship they must receive an offer
on a Bachelor's degree programme in one of the participating institutions to receive their scholarship.
For Republic of Ireland applicants, Uversity's scholarships are considered reckonable income for the purpose of means-tested social welfare benefits and SUSI grants. Offers will be subject to Uversity receiving an income disregard so that these benefits / grants are not adversely affected.
Before you start an application you should:
If you have any further questions, please contact; admissions@iadt.ie / +353 1 2394621